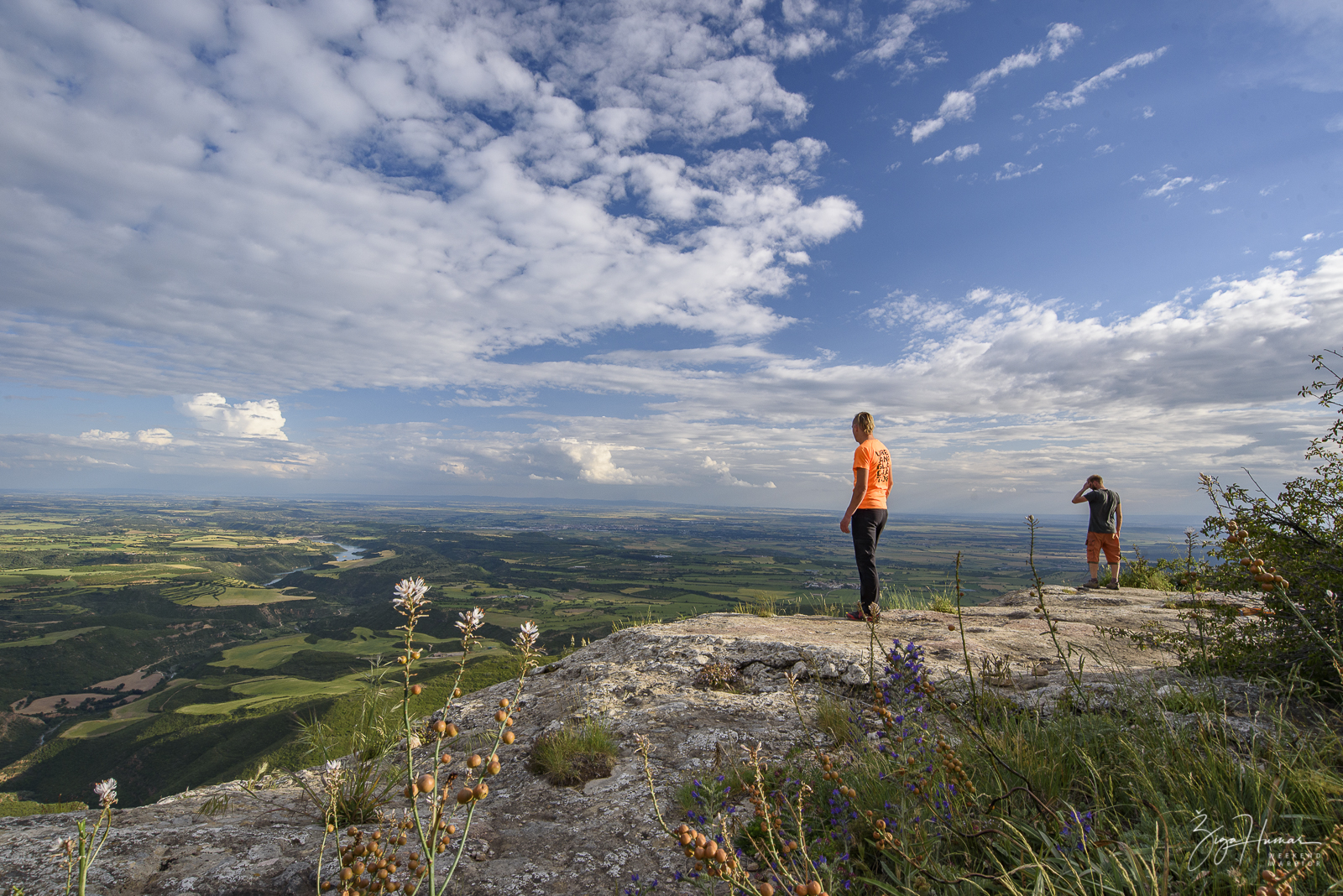 Žiga Humar, 26. 7. 2018
Sierra de Guara - a trip to the pre-Pyrenees
The only constant in our life is change. The kind we bring on ourselves or the kind brought on to us by others. It's important to find our feet to at least some degree in every situation and work out the best solution. But let this be enough words of wisdom for introduction. This time the change concerns the content of this post—instead of the promised text about a trip to Corsica you'll be reading about the Spanish Sierra de Guara, while Corsica will perhaps find its way here sometime in the future, when I actually visit it again.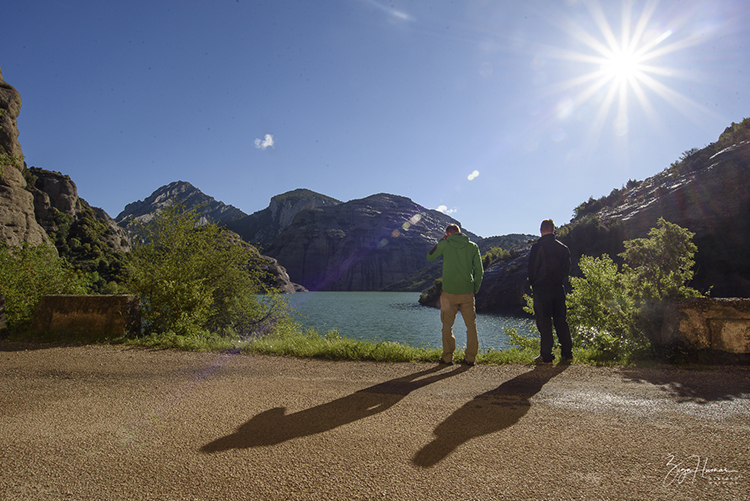 In April, six members of my canyoning crew decided to visit another canyoning Mecca located in the pre-Pyrenees in the region of Sierra de Guara at the end of May. That's where we can find the cult canyon of Mascun, where canyoners supposedly wait in line to use the anchors to descend. According to the photographs, the water level is relatively low. But in our case, it turned out it was just the opposite ...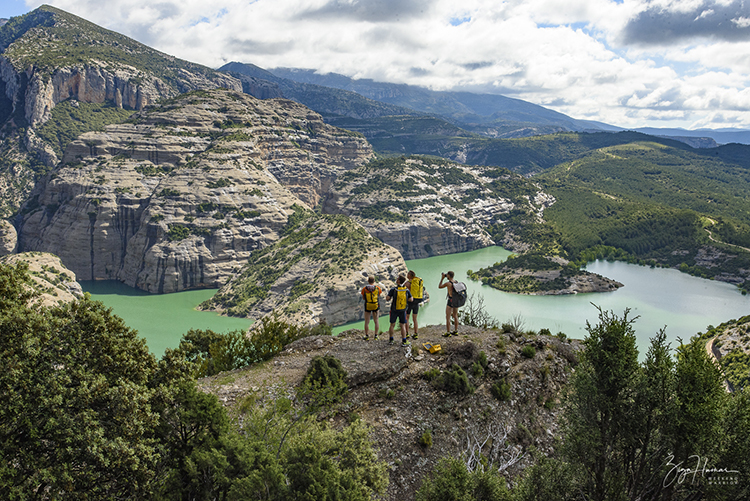 We didn't do our homework before heading to Spain. I was counting on our dear Andrej to do it and he thought I would do it, as I am known to go a bit overboard and check everything ... Well, it became clear that this was not the case when we landed at Zaragoza airport and the kind lady at the tourist information office warned us that a state of emergency had been declared in the area due to floods and the weather forecast wasn't too rosy either. It was perhaps only rosy in the sense that roses would grow better because of the water ... I had no choice but to go and buy a tent in Decathlon, since I had been planning on sleeping under the stars as usually. Oh, man, when am I going to learn?! This time I decided to put an end to this and stopped at Decathlon. 20 minutes later and my wallet EUR 100 lighter, I came out of the shop smiling with a tent under my arm. Now nobody can say I haven't spent all my pay for annual leave for holidays … It was supposed to be set up in two seconds (Quechua 2 seconds). Well, I needed a whole 20 seconds. Even this was quite okay considering some couples need about an hour to pitch a tent while getting into an argument so heated that they can't find a common language until the end of the holiday. Yes, premarital counselling should also include pitching a tent … ;)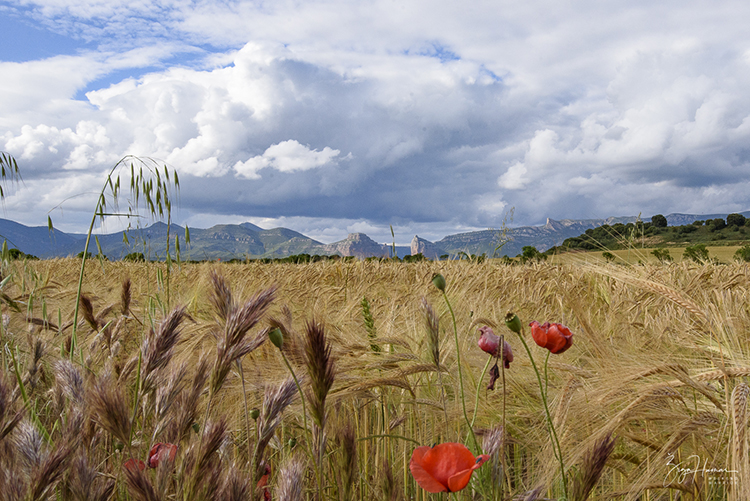 The drive around the region surprised me. This Sierra de Guara is indeed interesting. Plenty of hills and fields and relatively a lot of water. Rock types include flysch, conglomerate and limestone. The combination of everything results in beautiful colours that are mighty tempting for amateurs of landscape photography. People earn their living mostly by farming and there is also some tourism, but it mostly flourishes in summer months when people in camps set up tents one on top of the other and other accommodation is sold out a few months in advance. Similar to what is happening these months in Bovec, where a few places are still left at campsites but to get a table at dinner time you have to book in advance.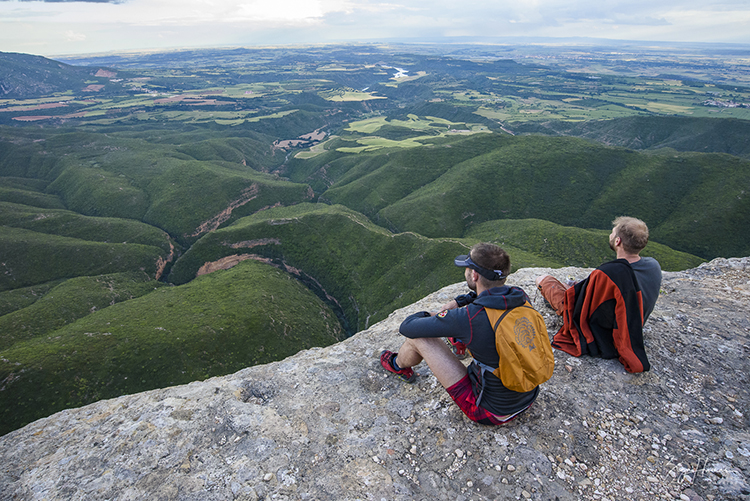 Sierra de Guara is not just beautiful. It also offers numerous hiking trails and climbing routes. At least in limestone; sandstone is much less appropriate for climbing because holds tend to crack (stones that break away from the sandstone foundation). But for us the most important thing was that it has countless wonderful canyons we intended to visit. The only problem was the high water level in most of the canyons. That's why we had to change our plans and wait for the most watery canyons until the last days. We started with vertical canyons with less water and continued with those with more. I have to say that my level of tolerance for canyoning in high level waters increased quite a bit. The more water there was and the bigger the danger, the more seriously I approached the situation, studied it and looked for the best solution, as if I was building a nuclear reactor by myself. Deeply focused, I couldn't think of anything else. Survival instinct is stronger than other human needs. It turned out that we were handling the situation really well as we didn't have any major problems anywhere, and we had also practised different rescue techniques. However, I would probably never have attempted this kind of feats without such an experienced and homogeneous team.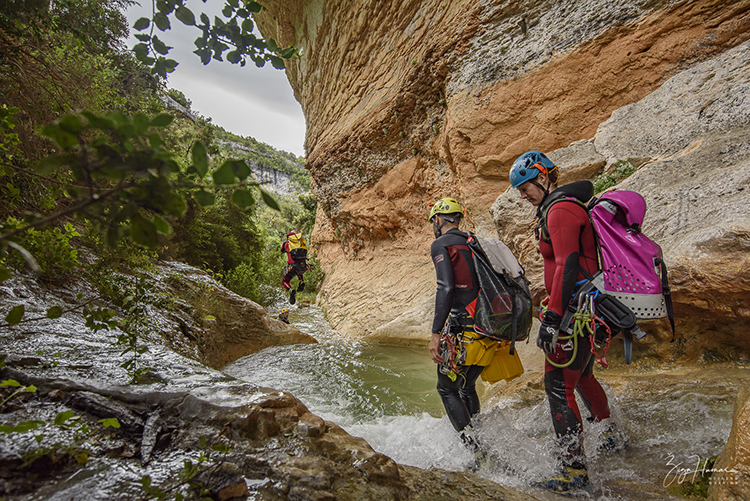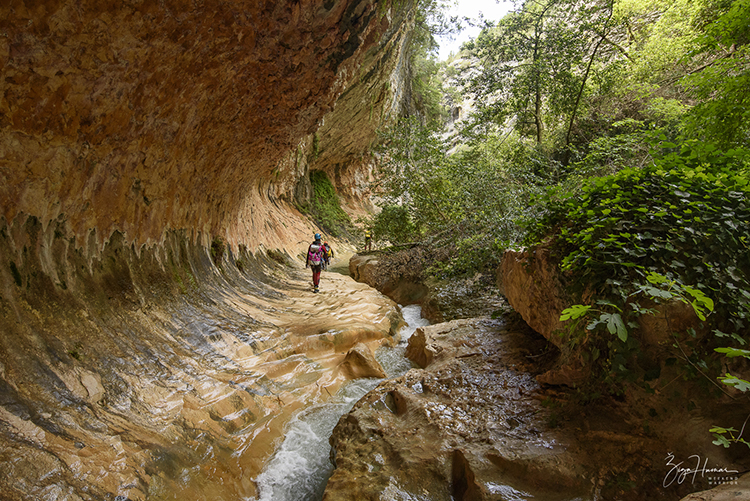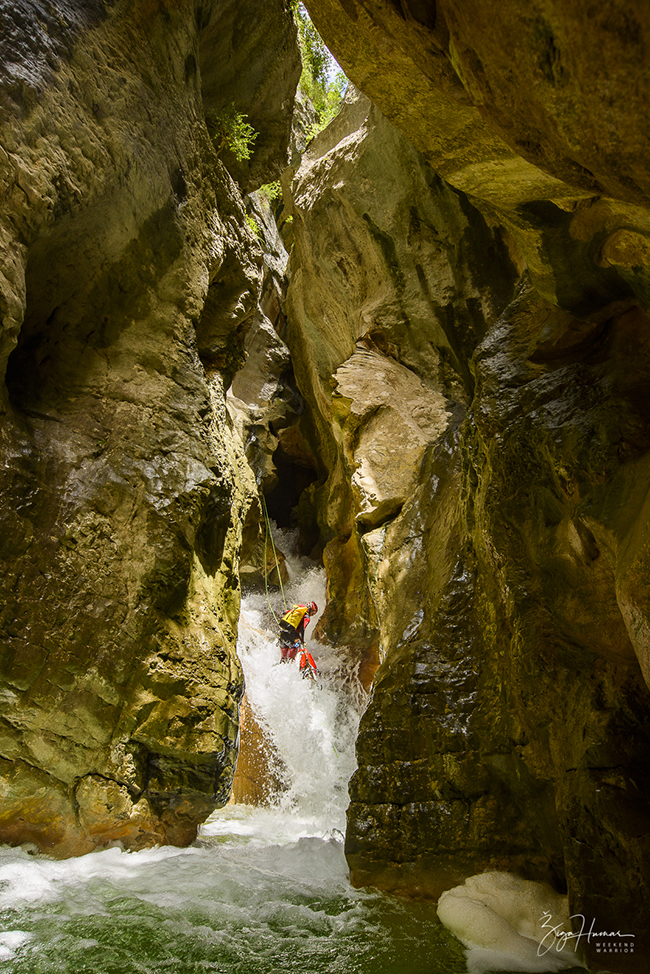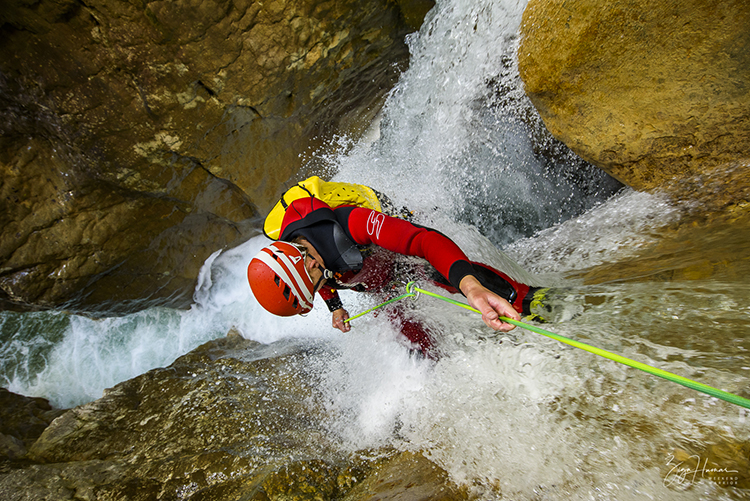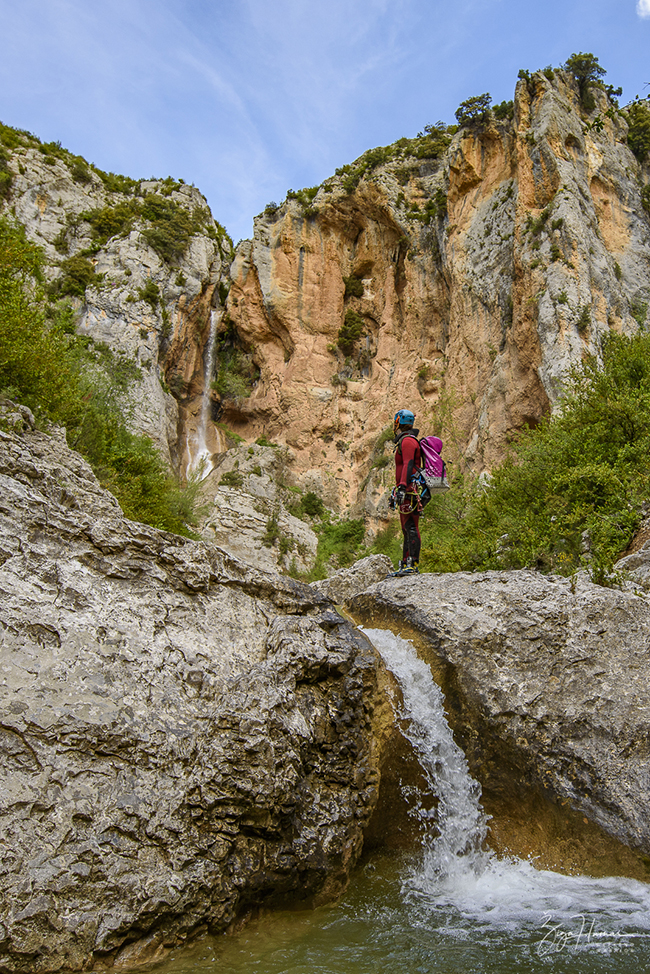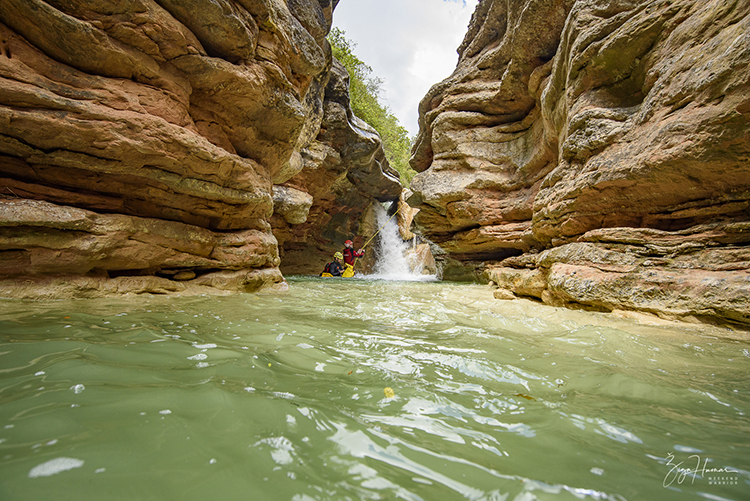 After canyoning we always treated ourselves to some tourist sightseeing of areas of natural beauty and other places. We didn't even miss out on wild camping on the impressive crag of Sao Miguel, hoping that we would be able to take photos of the sunrise the next day. Unfortunately, the clouds stopped us. No matter, though, the experience was still pretty special.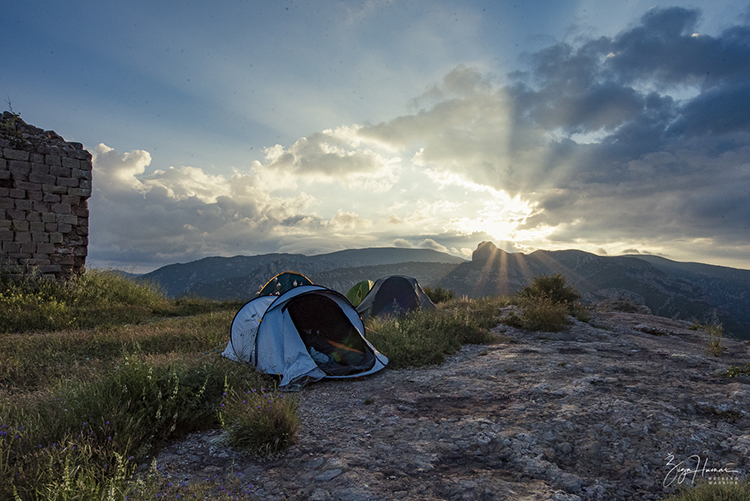 Of course I returned, once again, with a bag full of stories. About how the fox almost took an entire crate of food from behind our backs while we were making fun of a poor caver from Novo Mesto who is supposedly dead afraid of foxes. Not to mention the newly discovered wisdom that off-grid camping is not okay because there's nothing to do on the phone while going for a number two. And there's more where this came from …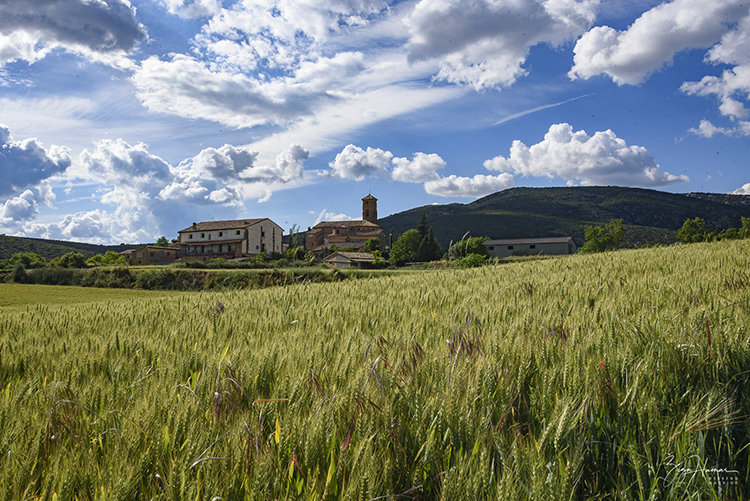 So, to wrap the story up. Sierra de Guara has proven to be a pleasant substitution for Corsica. If you're a nature lover I recommend visiting it in spring when it's green and particularly easy on the eye and when the temperatures are just right to wander around valleys and mountains. Prices are acceptable and you can get to Zaragoza with a low-cost flight from Bergamo or from Venice to Barcelona. On average, preseason camping costs EUR 10 per person, including a tent and a car. Definitely budget friendly, this is a nice getaway with a good price/performance ratio.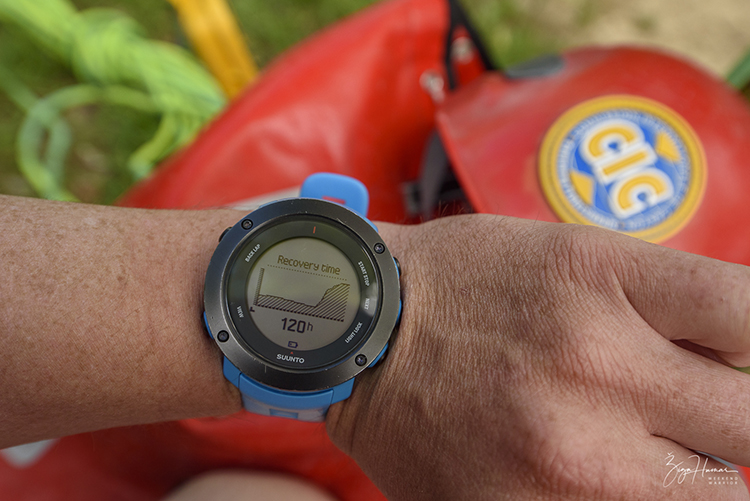 Žiga Humar
You may also be interested in: