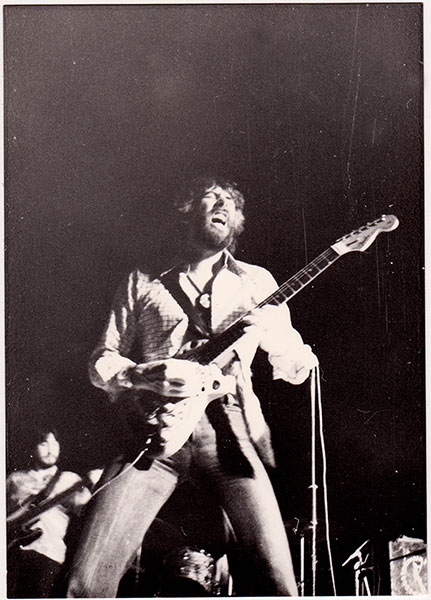 Jani Guna, 1. 9. 2017
John Mayall
In those times, as our generation began to sniff on the sweet scent of the flower-power blossoms and constantly broke free and created new trends in the current music scene, of course you also had the same movement going on in my hometown Trbovlje and in which you saw the sexy guitar curves of the blues queen and John Mayall as her most loyal musical underling. From 1965 John Mayall lead his musical incubator called Bluesbreakers, and although he was mostly known for his guitar, for which others were also famous for (Clapton, Green, Taylor), he also taught others the base, drums, fiddle and all kinds of woodwinds, which spread out in the world to all corners and to all sorts of English bands (McGuinness Flint, Manfred Mann, Cream, Fleetwood Mac, Colosseum, Keef Hartley Blues Band, New Animals, Family, Free, Soft Machine, etc.) and his music was even highly appreciated and played on the other side of the world, in California, where bands such as Canned Heat, Mothers, etc. ruled the Laurel Canyon.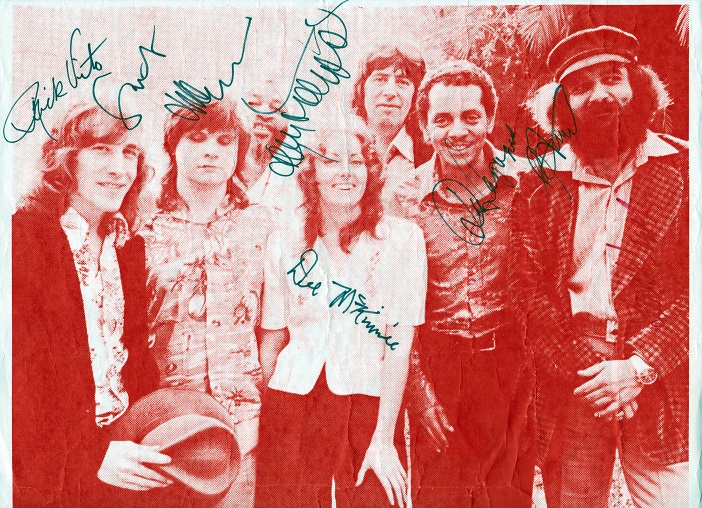 John Mayall was a guru blues master of the highest rank, undisputed even in those times and is still till today one of the greatest musicians with his biggest record, which is fittingly called TURNING POINT. With this masterpiece he undoubtedly set his name into the pillars of blues music and amazed everybody who listened to it. In my social circles this record was the absolute culture and became a referential milestone of progressive blues, which Mayall, of course, moved around before and after the first appearance of his rhythmical amphibrach work of art. In comparison to every record out there, this record was at least 2 levels higher and gave the real impression of something which was newly invented and never heard of before. When I first held it in my hands I had the feeling that this man didn't even truly exist, but is rather a kind of mystical being from another realm of existance, one who only came to this world for a brief moment just to switch out the music matrix and then went off somewhere unknown again.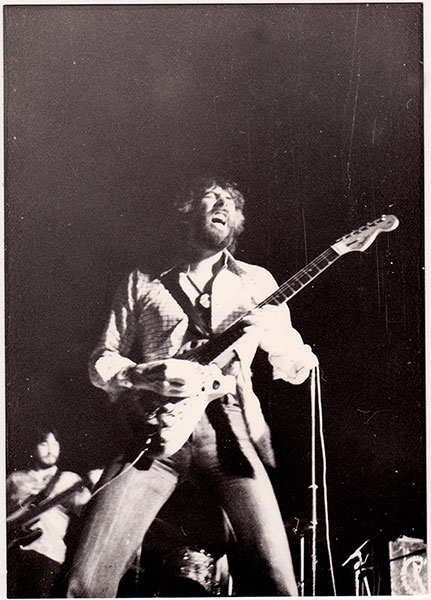 That is why on 24.10.1975 I felt like entering an intergalactic portal into another world when John Mayall suddenly entered from my fantasy place to the real world and right into Hala Tivoli in Ljubljana, together with a real, a bit more happy, joyful and new American music group - the legendary Larry Taylor at base, Don Sugarcane Harris, which is an even bigger legend on the fiddle, the fantastic Rick Vito at guitar, and in between Jay Spell who fingered the keyboard like a pro, and lastly Soko Richardson on the drums. And to make things even more exciting, the chapel master Mayall had the beautiful songstress Dee McKinnie at his side. The first support act to play that evening were some forefathers of a glamour band Make Up, second where the robust and loud Geordie, from which later on the famous singer of AC/DC Brian Johnson got his iconic style from. Of course, none of these bands were really pleasing the assembled masses, who were only there to see Mayall himself. And although he didn't leave out his harmonica solo-song named Room To Move, he did tend to the rather new and more leisurely beats of his repertoire from the last record: New Year, New Band, New Company.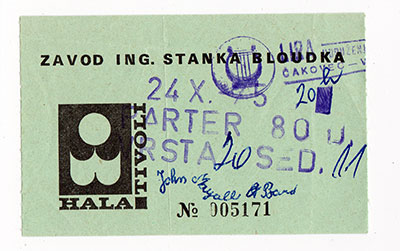 After the concert I waited at the exit for my companions from Trbovlje Basek, Stokat, Tone and some others, so we could go together and spend the night waiting on the railroad station like we always did, because the first train arrived at 4am only. I can remember that I was holding a rolled-up poster in my hands and fiddled with it whilst waiting, one which I tore down from a tree even before the concert started, and all of a sudden I saw the whole gang entering and strolling to their tour bus. I eagerly held out my poster and a pen so they could sign it, and they all signed that artefact of music history and also said thank you at the end. I know I was all stiff and couldn't even more from the sheer respect I felt for them, but because the violinist Don Harris was such in a good mood, I happily continued to talk to them, while others gave their autograph and slowly entered the bus (and only now did I see, that actually all of them signed the poster). I was eagerly waiting for my comrades now, who were slowly getting out of the concert hall, and I could see Mayall from a window of the tour bus and Jani Novak who was walking around the vehicle and Mayall was showing him all of his guitars, drinking a few drinks with the guys, showing him where they slept, and I don't know what else. Jani must have really said something rustically provocative or cunning to him from out socialistic repertoire, because the godfather of blues himself invited him to join the tour with them along, because they had enough space on the tour bus for one more member. Jani respectfully declined, because on Kešetova Street already waited his mother for him to come home, and she would have really beaten the living hell out of him if he didn't come back in time.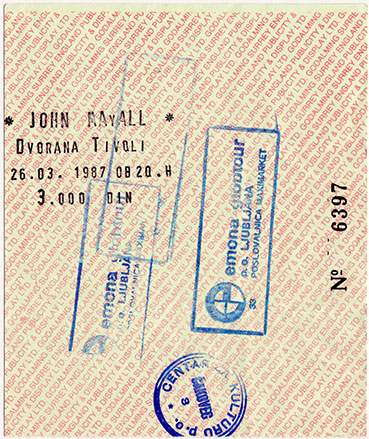 And just 2 years after this encounter, I listened to Mayall again in Zagreb and again in Hala Tivoli in 1987 and 1997. When I ordered a really sweet historic record from his internet site, which was now selling for really good money, obviously, I wrote and remembered him of the first concert here in Slovenia. He unexpectedly replied to me that he is always happy about any memory of his, in which he is remembered for his good music and the influence he has on his fans. And I also finally got my CD Historic Live Shows and with a personalized cover at that, with a photo and his autograph, along with a letter stating that it was delivered rather late because John Mayall was on his Europe tour and could not sign it sooner himself.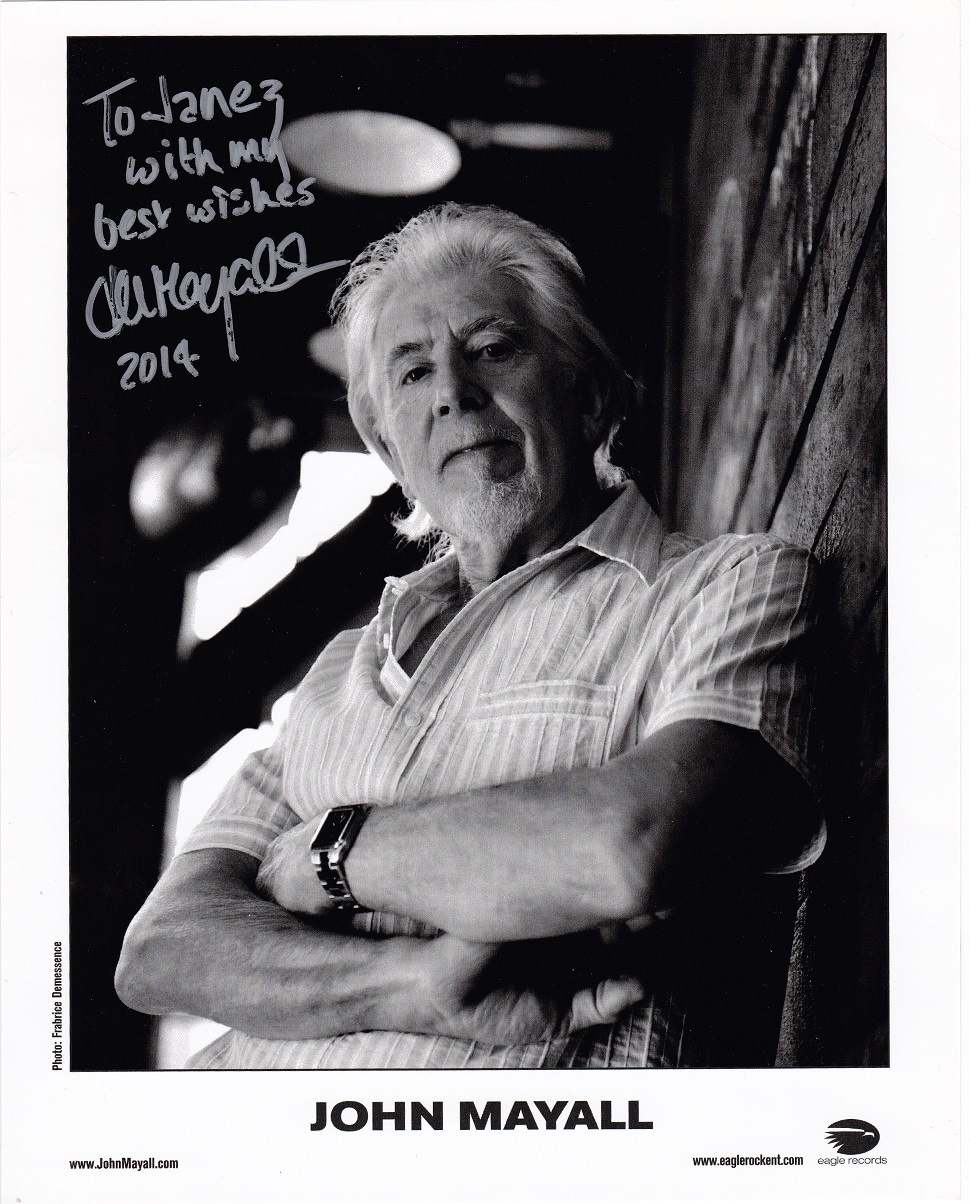 Jani Guna
An old and grey bull, who still gets a bit dizzy when hearing Ticket To Ride, born in the years, when rock & roll was born and when Bill Haley, together with His Comets, climbed on the first place of the Billboard charts with his most famous single, which made huge waves in the movie Blackboard jungle with the younger generations at that time. Aquarius as zodiac, who had luck to fall in love at the right time with my famous oracle named The Beatles and enjoyed the flower-power movement, which I listened to on the radio station Radio Luxemburg on a small transistor, and who heard the Chameleons for the first time on a jukebox, not to mention all of the corresponding giants between Liverpool and San Francisco, with a short stop in Trbovlje (Amebe, Eden's, Jutro, Črni bliski, Kon-Tiki). I could enjoy all of the pure vibrations of the crowds, good ones, and also other ones, like when they killed Lennon for instance, when they walked Tito to his last resting place, and after those events, changed my country and went into a new millennium along with it.
You may also be interested in: