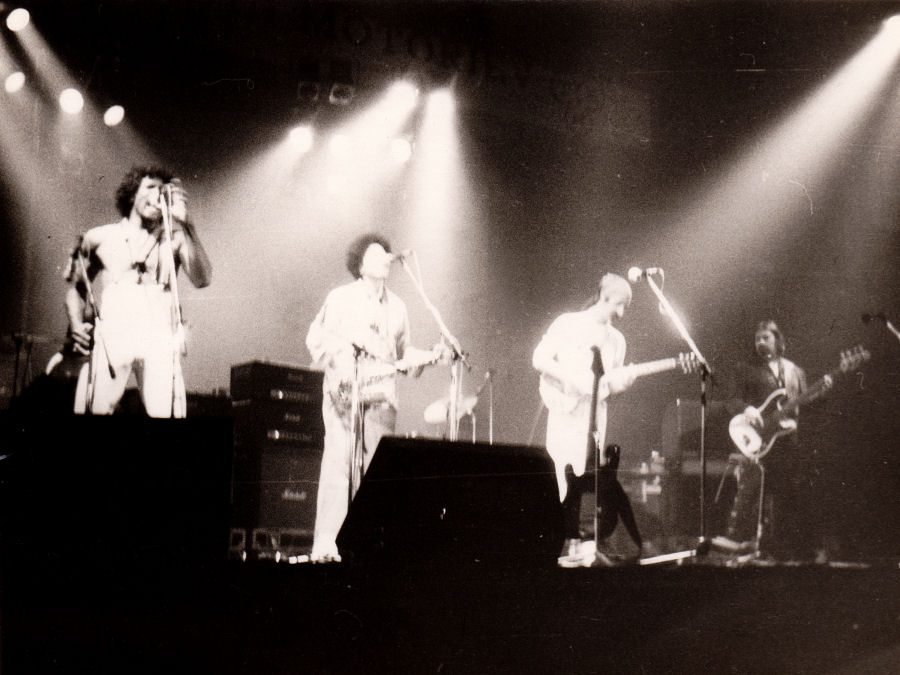 Jani Guna, 3. 11. 2017
Frank Zappa
I was looking through my old schedule planer from my rock concerts, in which I keep track of my visits along with the tickets I bought for them, just the other day, when I suddenly see, that it will soon be almost 42 years ago from that fateful 22th November 1975, when in the old days a famous rocker visited Ljubljana in Hala Tivoli, just across the iron curtain, as the famous Frank Vincent Zappa came to our country, or as we would call him in Slovenia "Franci Vinko Zepič". It was their last original cast, called in by Zappa himself, two of the last concerts in Europe, one in Zagreb and one here in Ljubljana. Today is seem sheer impossible, but I have to tell the truth, that this tour was called in by our late Yugoslavian government itself, which gave Zappa and his team to know, that they arranged for his transportation, hotel rooms, concert, interviews on the Zagreb fair Interdisc and everything that came along.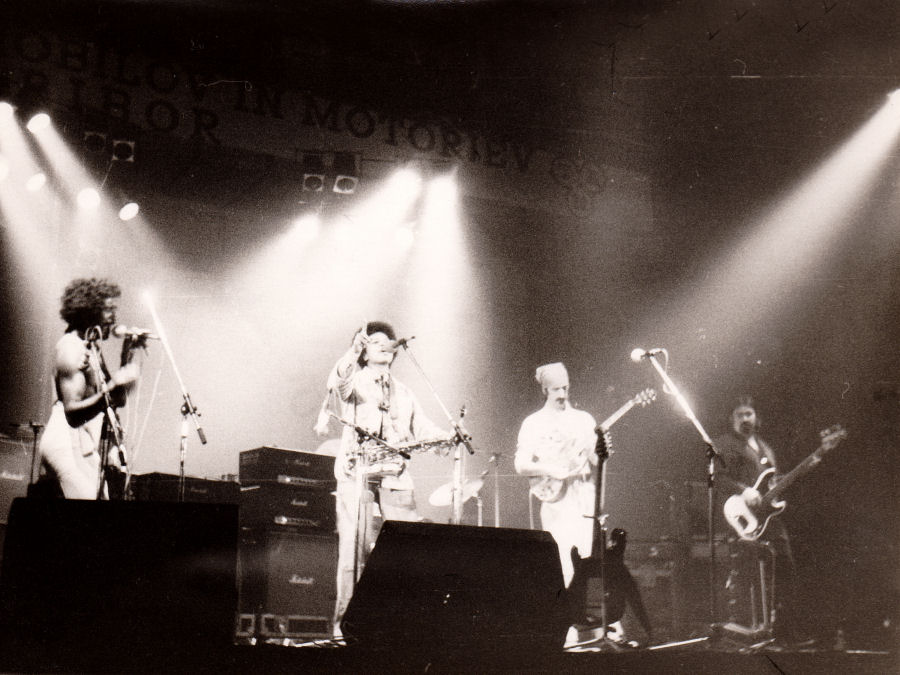 Their show in Hala Tivoli was again a totally illogical surprise of the Yugoslavian type, which was exclusively to bring Zappa just to us, an unorthodoxly made-up person, a person from the midst of America, a person who made fun of everything openly, about their Hollywood attributes and about the American dream, but at the same time a person, who actualized popular music with its  "underground" musical language, which Zappa himself described as full of cynicism, grotesques and critical discussions about politics, sex, religion, taboos, censorship, the commercial society and the right of free speech and active participation in society. In reality he existed in some kind of improvised fictive universe, which declined stereotypies, and with its complex music wasn't a real first-choice of every average housewife in America. I myself did not know on many who even had their records from their avant-garde times from The Mothers. But I do remember, how I, in a hot summer in 1973 or 1974, gathered all my money saved from my work as a practicing intern in the foundry Livarna and went to Ljubljana to buy their record Name from the double record Mothers Of Invention, with their music composed for the movie 200 Motels and was genuinely disappointed for their lack of missing rock music and almost just classical music as its background. But in that fateful night, it wasn't like that.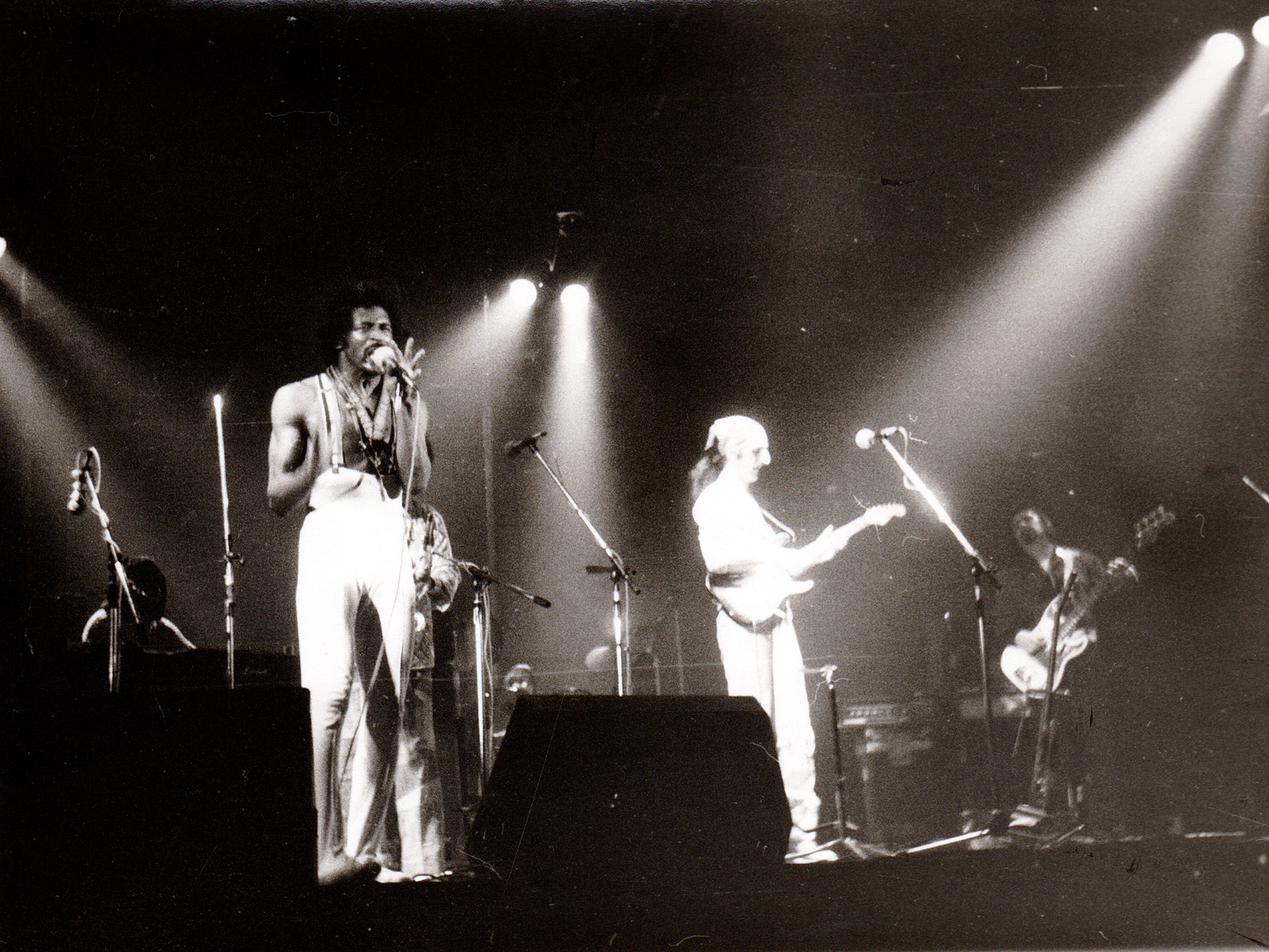 As always our Trbovlje-crew, consisting of Stoka, Basek, Tone, Vajo and many more, arrived about 1 hour before the concert and made our way to the entrance to the big Hala Tivoli, where they put up a bar with a partially-built glass wall, from which you could look inside the hall. And at one of those stood Frank Zappa himself, drinking beer, and looking out of the window. Of course, we immediately look him into our group, in which he, with his non-star-like personality, immediately fitted in, especially when Jani Novak showed him  the first side of the magazine called Mladina, with Frank Zappa on it and which he signed without a delay. We had a conversation going on from there, Jani told him that one guy in Trbovlje (Škoško) had his famous poster from 1967, where Zappa sat on the toilet, and I stupidly added that I had his solo album Chunga's Revenge, on which another round of beer was ordered, and Frank told that he was driving on the bus up and down the Ljubljana whole day and trying to feel out the vibe of the city. And in time, his corpulent basis Roy Estrada came to join us as well, dressed in Mexican shorts and with buttons sewed on the side, and winking at Zappa that it would be nice of him to join the group on the stage, because it was time to play. Some autographs followed and in short time we all went inside for the concert to start.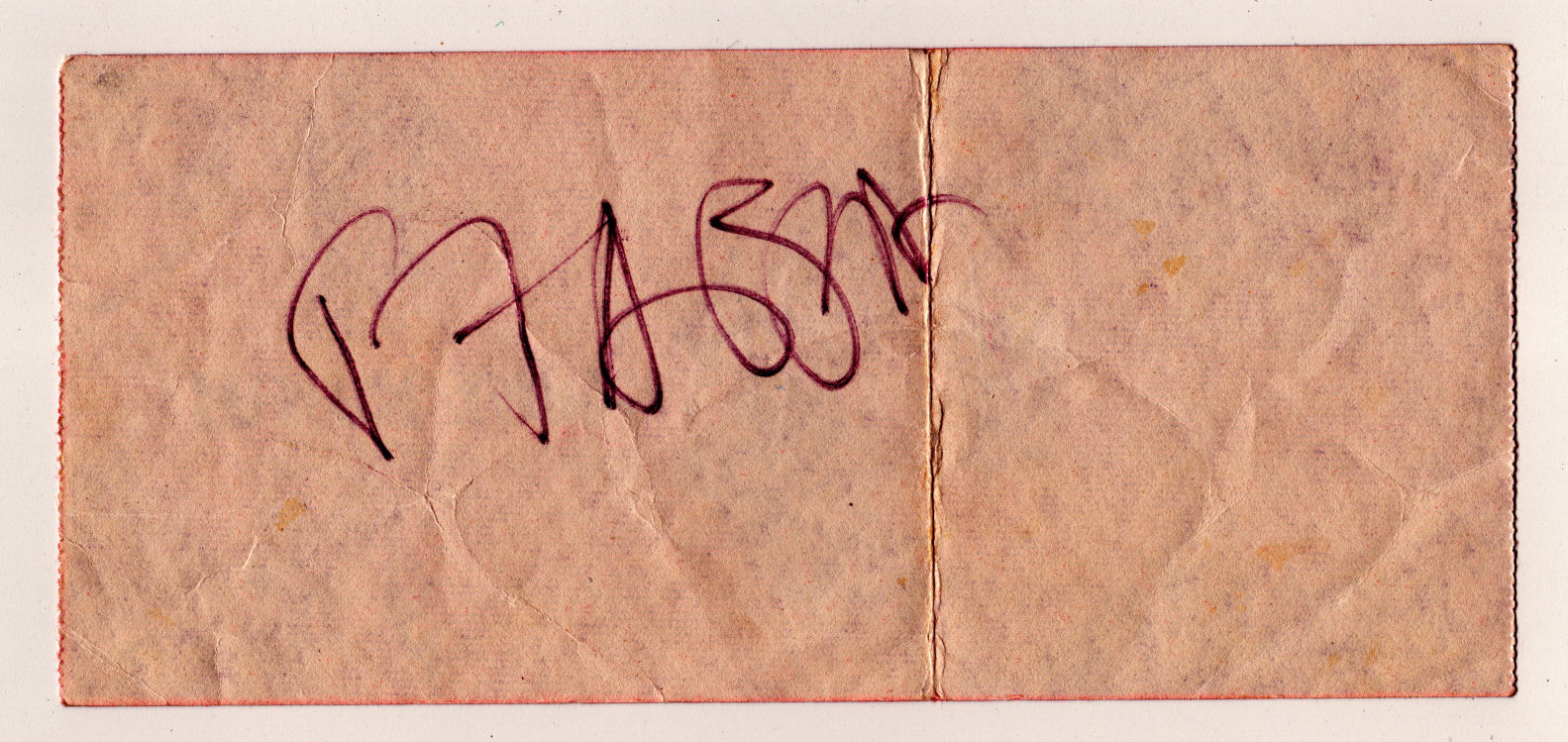 When I asked some of my friends a few days back about that concert, all of them remembered it like it was yesterday, as one of the best concert in Hala Tivoli ever. His performance was absolutely modernly structured and, of course, filled with true rock music feel, but also arranged with a distinct jazzy undertone. The drummer Terry Bozzio constantly switched beats, the keyboard player André Lewis colored each song with his synthetic tone, the saxophone players Napoleon Murphy Brock and Norma Jean Bell, who even James Brown would gladly had on his stage, played a real wild and funky tune, although they did not sing along. In that time, Roy Estrada stood peacefully and played his bass with a very loud beat, Zappa with his sophisticated guitar-playing and talking along focused all of the different styles into one and played with a very precise lead, full of modern interventions which filled his classical Eurocentric music style, which was followed by jazzy-blues-like influence and which could have been easily accompanied by Varese or even Stravinsky. The crowd thanked Zappa for this amazing performance with lit lighters at the end, which was a first occurrence Hala Tivoli had seen.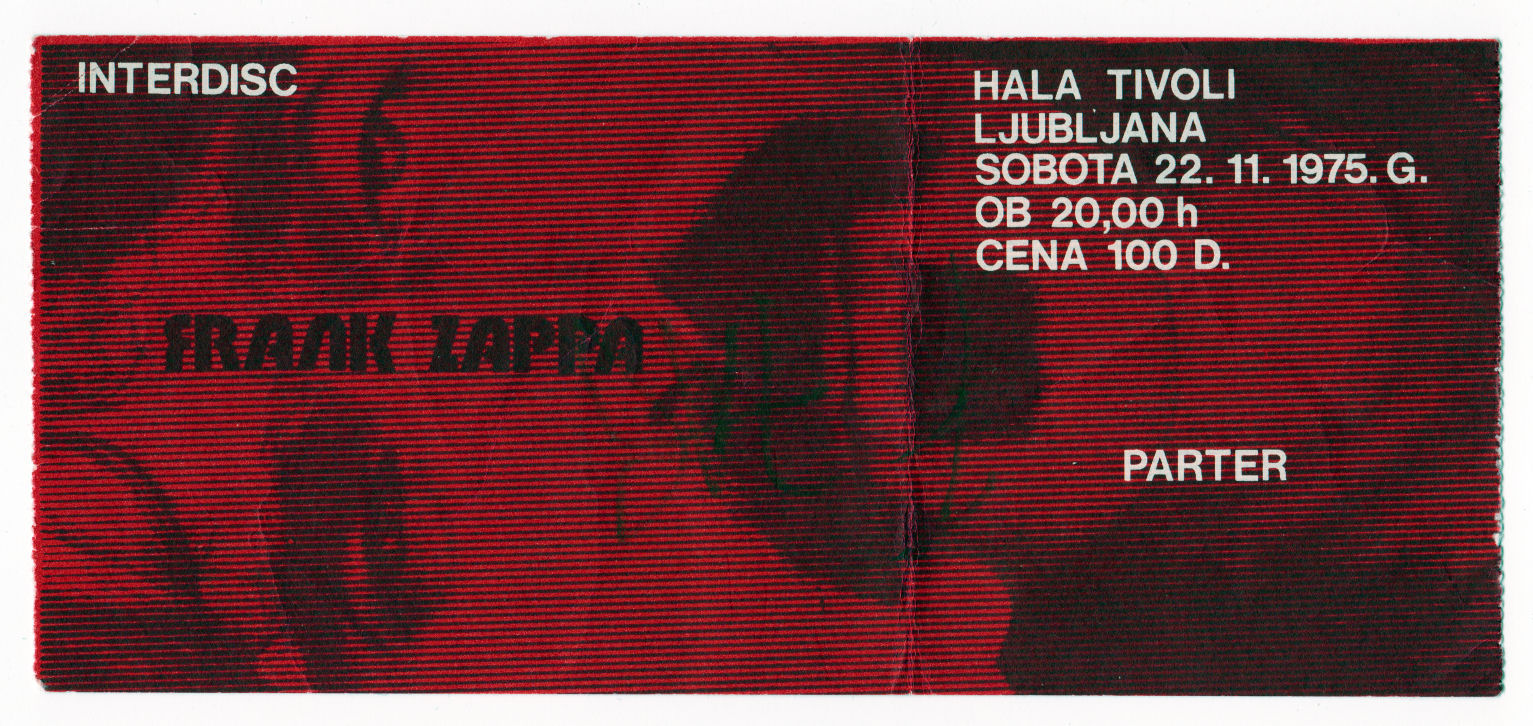 As we went back from the concert across Tivoli and to the train station, we could head a part of this concert on a portable cassette player, which somebody placed on the hood of his car. And so it was that we were obviously witnessing a very first bootleg in Tvoli that night as well.  

Jani Guna
An old and grey bull, who still gets a bit dizzy when hearing Ticket To Ride, born in the years, when rock & roll was born and when Bill Haley, together with His Comets, climbed on the first place of the Billboard charts with his most famous single, which made huge waves in the movie Blackboard jungle with the younger generations at that time. Aquarius as zodiac, who had luck to fall in love at the right time with my famous oracle named The Beatles and enjoyed the flower-power movement, which I listened to on the radio station Radio Luxemburg on a small transistor, and who heard the Chameleons for the first time on a jukebox, not to mention all of the corresponding giants between Liverpool and San Francisco, with a short stop in Trbovlje (Amebe, Eden's, Jutro, Črni bliski, Kon-Tiki). I could enjoy all of the pure vibrations of the crowds, good ones, and also other ones, like when they killed Lennon for instance, when they walked Tito to his last resting place, and after those events, changed my country and went into a new millennium along with it.
You may also be interested in: