Matej Moškon, 21. 6. 2017
The unforgettable meeting with Reinhold Messner
I had to read Viki's invitation to Juval Castle, the home of Reinhold Messner, quite a few times before realizing it was an actual real invitation. Messner's yearly residence in the Dolomites is also one of 6 themed mountain museums, hallowed to alpinism. So there we were; standing in the front of the castle, about 1 hour before the actual meeting and Žiga and I decided to use that extra time and we took a tour of the big castle and examined from every corner we could. The mountain pass leading to the museum was closed for the day, so we were surprised to see a car suddenly getting closer to the entrance. And after the luxurious Mercedes stopped, a leg came out of it at first, wearing simple mountain boots. And my heart began to race immediately. "It is him". We rushed to the front of the other invited group members, to the entrance of the castle. And I still managed to whisper into the ear of two boys who gathered fallen twigs of an old cedar tree growing there: "The boss is coming!" And after they saw Reinhold Messner getting closer, the boys started to work even faster.
Being part of the great meeting of 3 of the world's biggest names in alpinism: Reinhold Messner, Viki Grošelj and Stripe Božić, I felt like a small pebble lying in front of giant cliffs. And it was then that I inspected the 72-year old man a bit closer. He wore simple mountain trousers, which showed all his climbing might, a might he portrayed whilst conquering all of the world's 14 mountains over 8000m height without the use of oxygen. And although he lived a stressful alpinist lifestyle, in which he conquered over 3500 mountain tops, he still maintained a youthful appearance.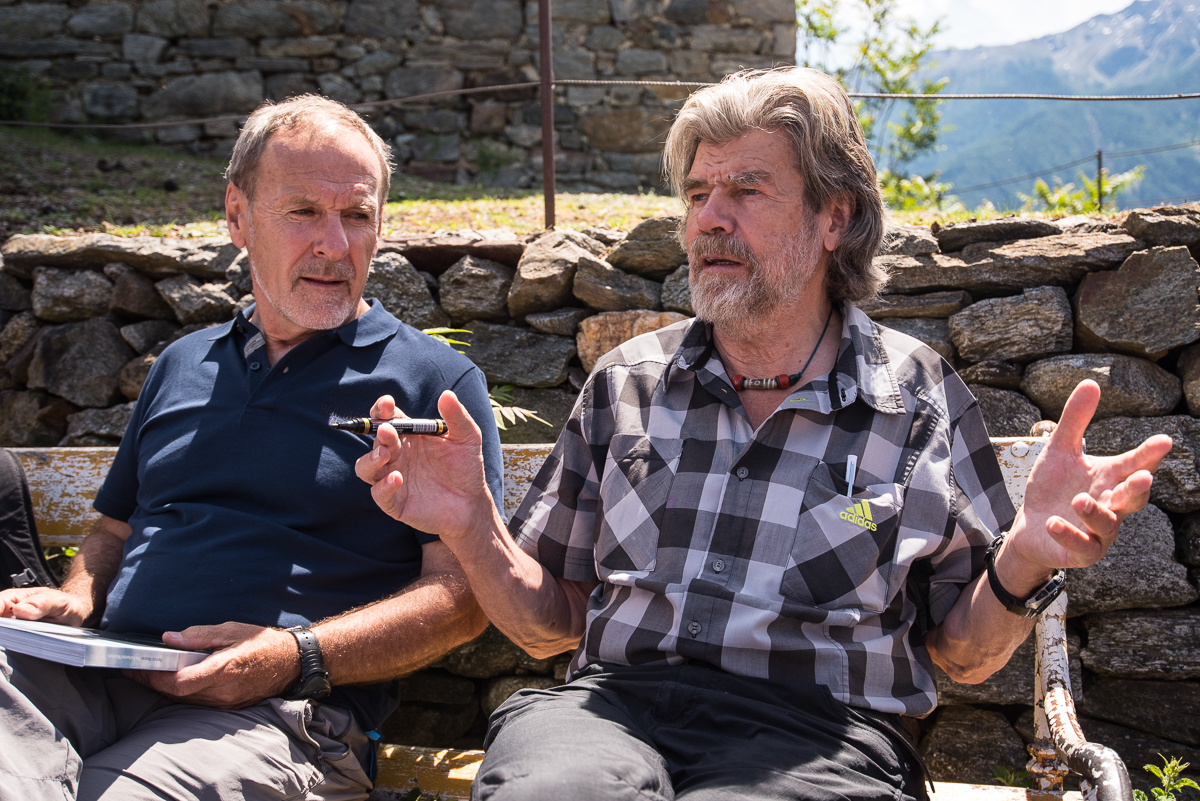 After followed the sightseeing of his most precious treasures, his collection of items, which symbolize and incorporate the spirit of true alpinism; alpinism which he himself says is not only a sport, but a philosophy. The items gathered and displayed in each room were carefully chosen and each of them carried a special story as a piece and as a whole. And when speaking to him about these, I truly felt like I was in heaven.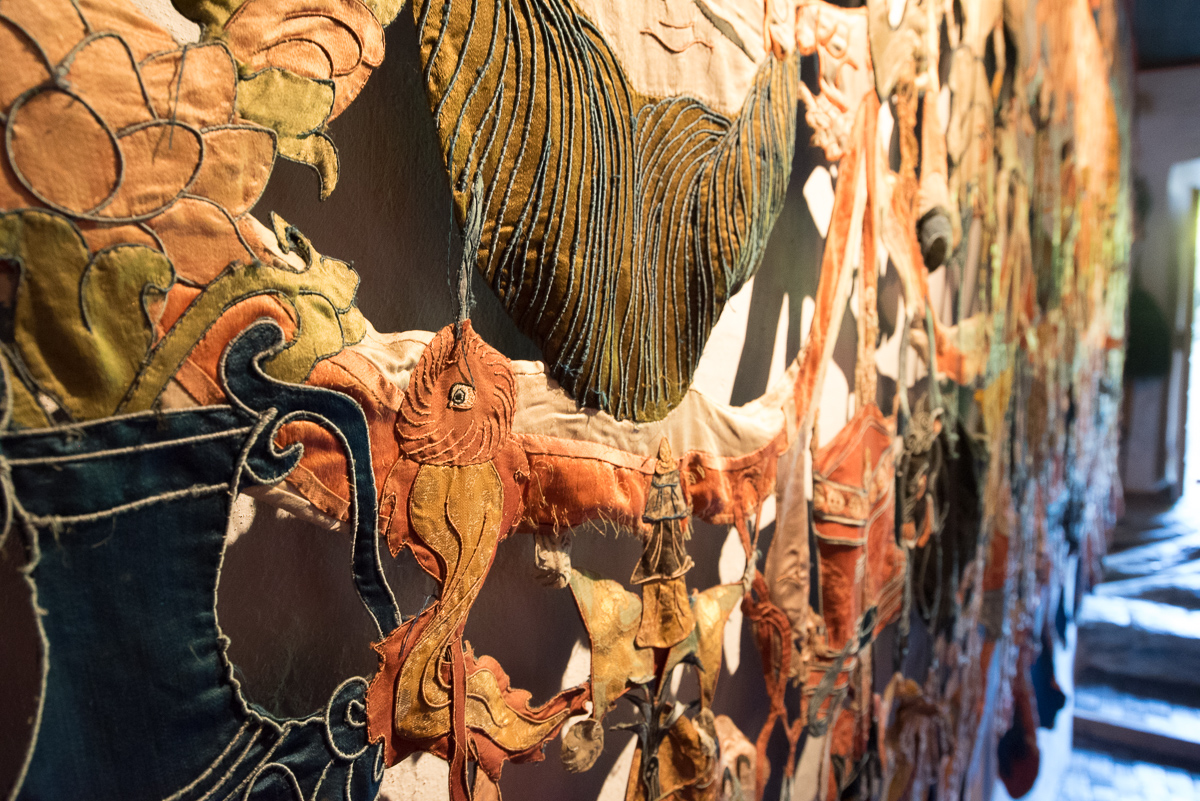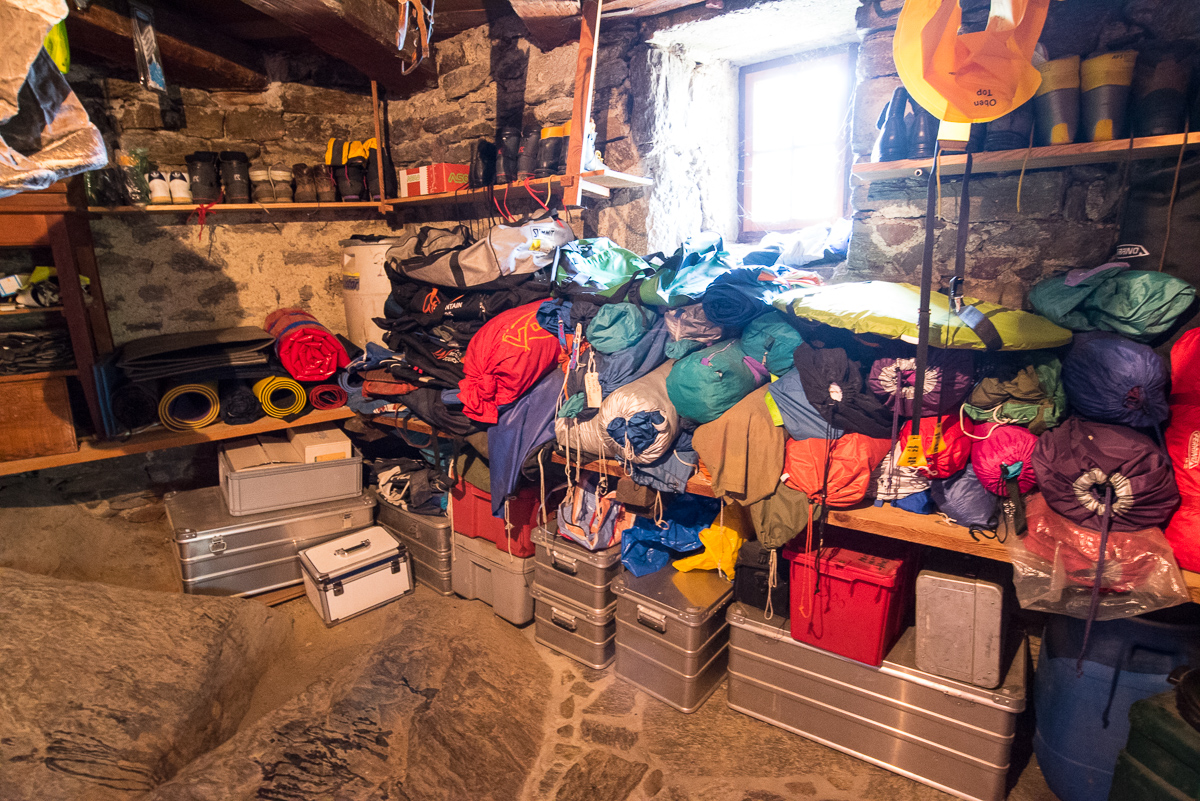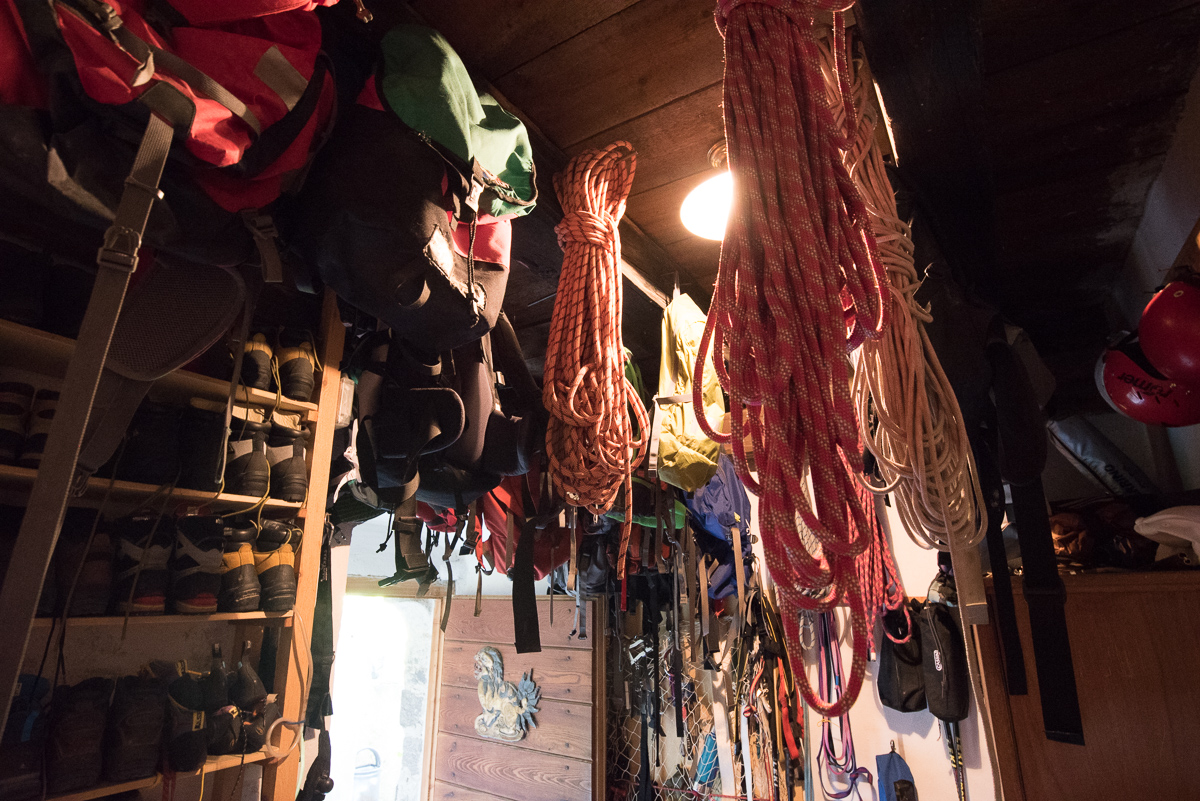 Whilst chatting along, I mentioned our most known Slovenian dish "potica" and that we should watch out that Trump does not take it away from us in a joke. As for the rich book collection of Reinhold himself, some 80 books were also donated by him, and Žiga also presented him with his grandfather's book of "V kamen vklesane zgodbe" ("Stories written in stone"). Žiga's grandfather, Metod Humar, was one of the leading representatives of the after-war generation of Yugoslavian alpinists, which were more or less extremely underequipped even for that age and still were able to conquer giants in the Himalayas. Sadly, probably because he doesn't speak Slovene, he will never get to read it, but the sheer look of the colorful pictures in the book alone made Reinhold's face lit up in joy and, just for a brief moment, he travelled back in long forgotten times.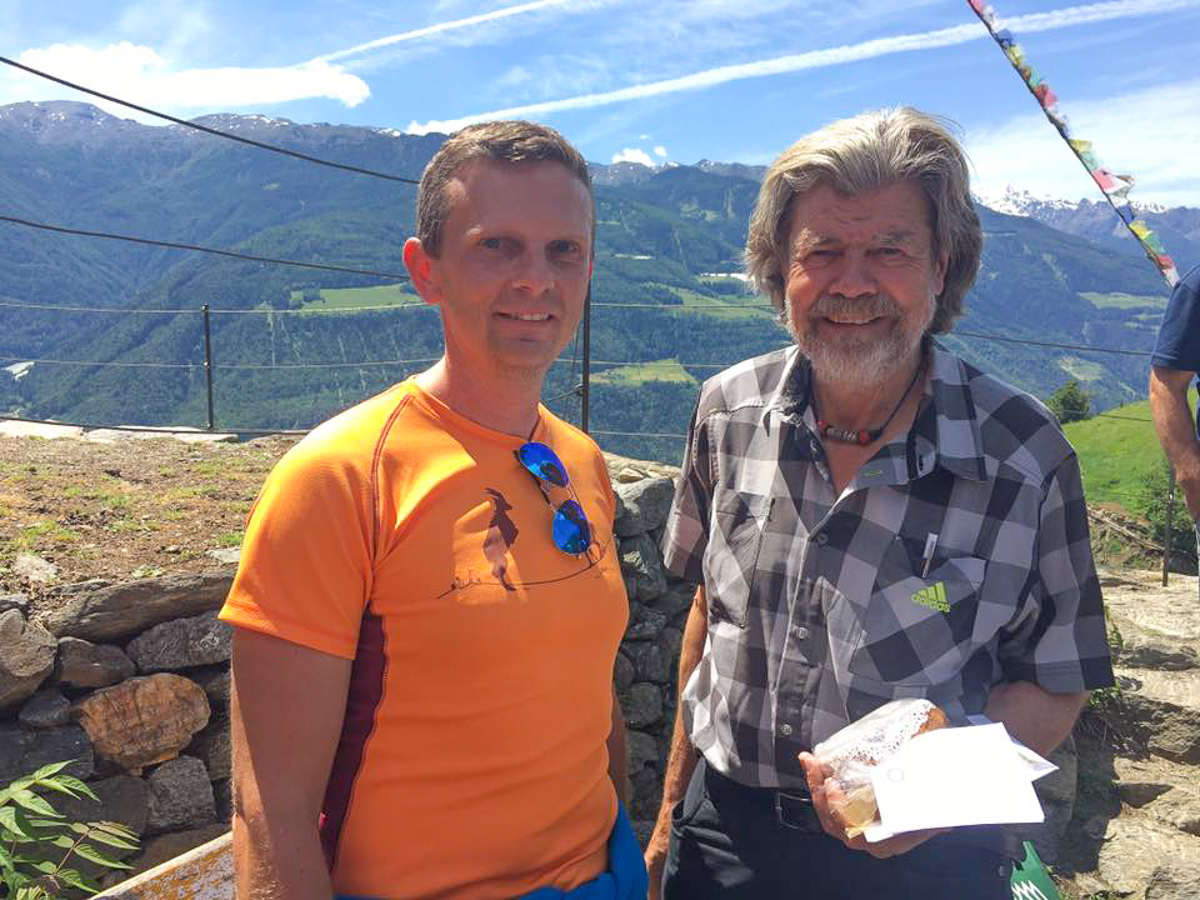 We used the remaining weekend to climb onto the Dolomite Mountains at hand; in the company of a few good drinks, tasty food and in the most excellent company of the mountains themselves. For me, truly, one of the best stories "written in stone".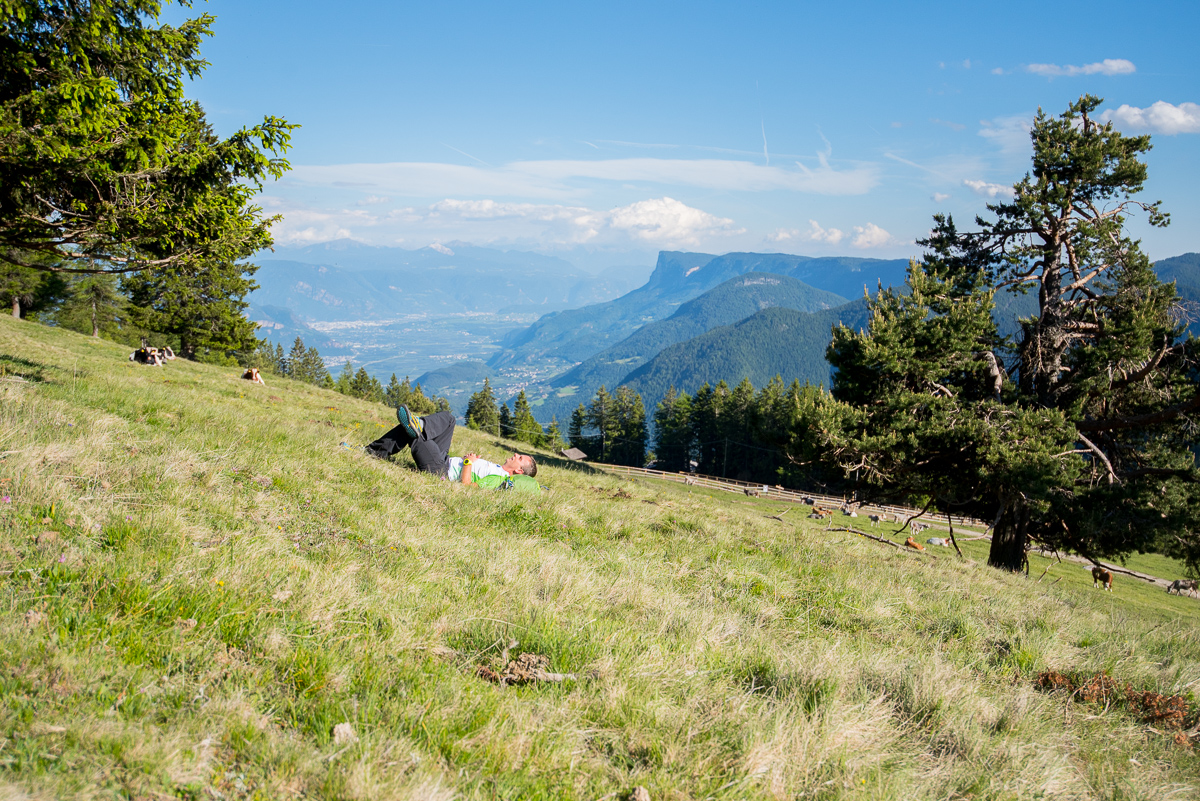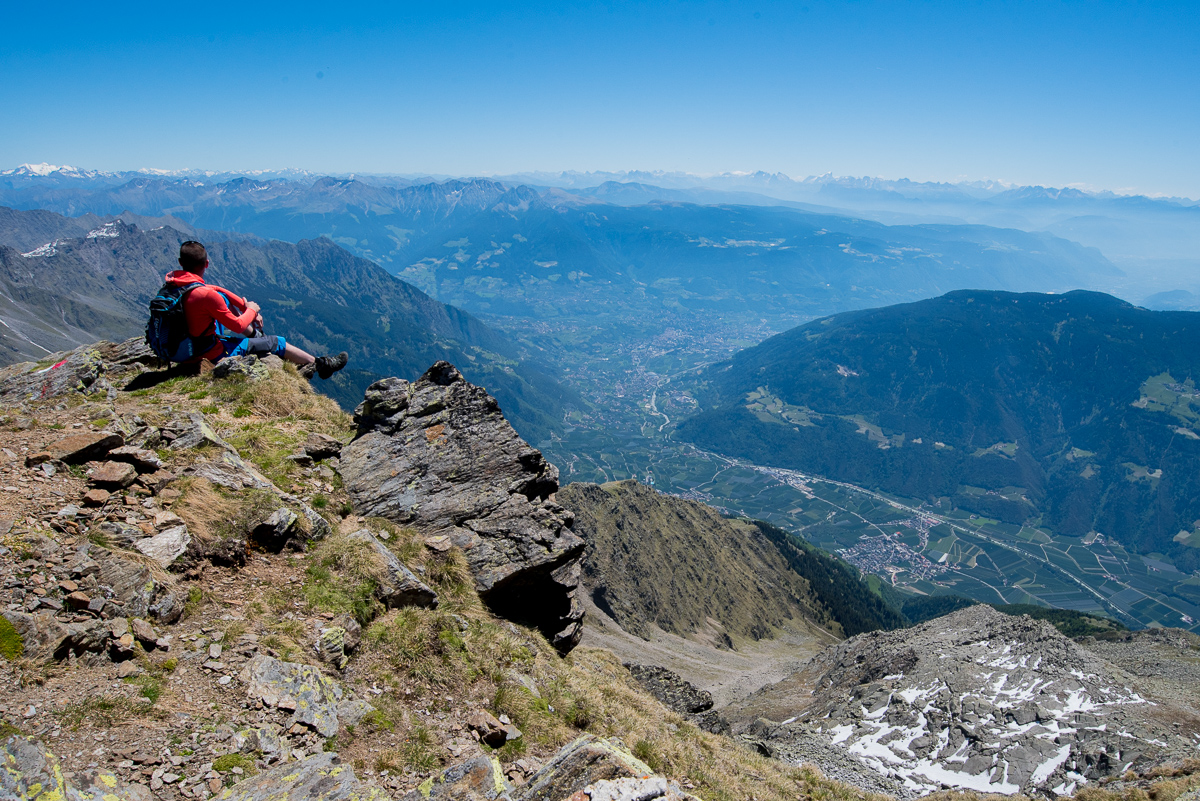 Matej Moškon
I live an exciting quadrangle love-life with my family, my company and with the mountains. Top-quality gear and advanced technology follow me on my every step in life for decades. I seek answers on many questions in nature and it is here, where I find my true inner peace. The responsibility for my work fills me with a proud feeling of being useful to somebody. I love to follow and resolve questions on configuration advices, project performances, searching for causes of errors, etc. I gladly share all my experience with everybody that would like to hear them.