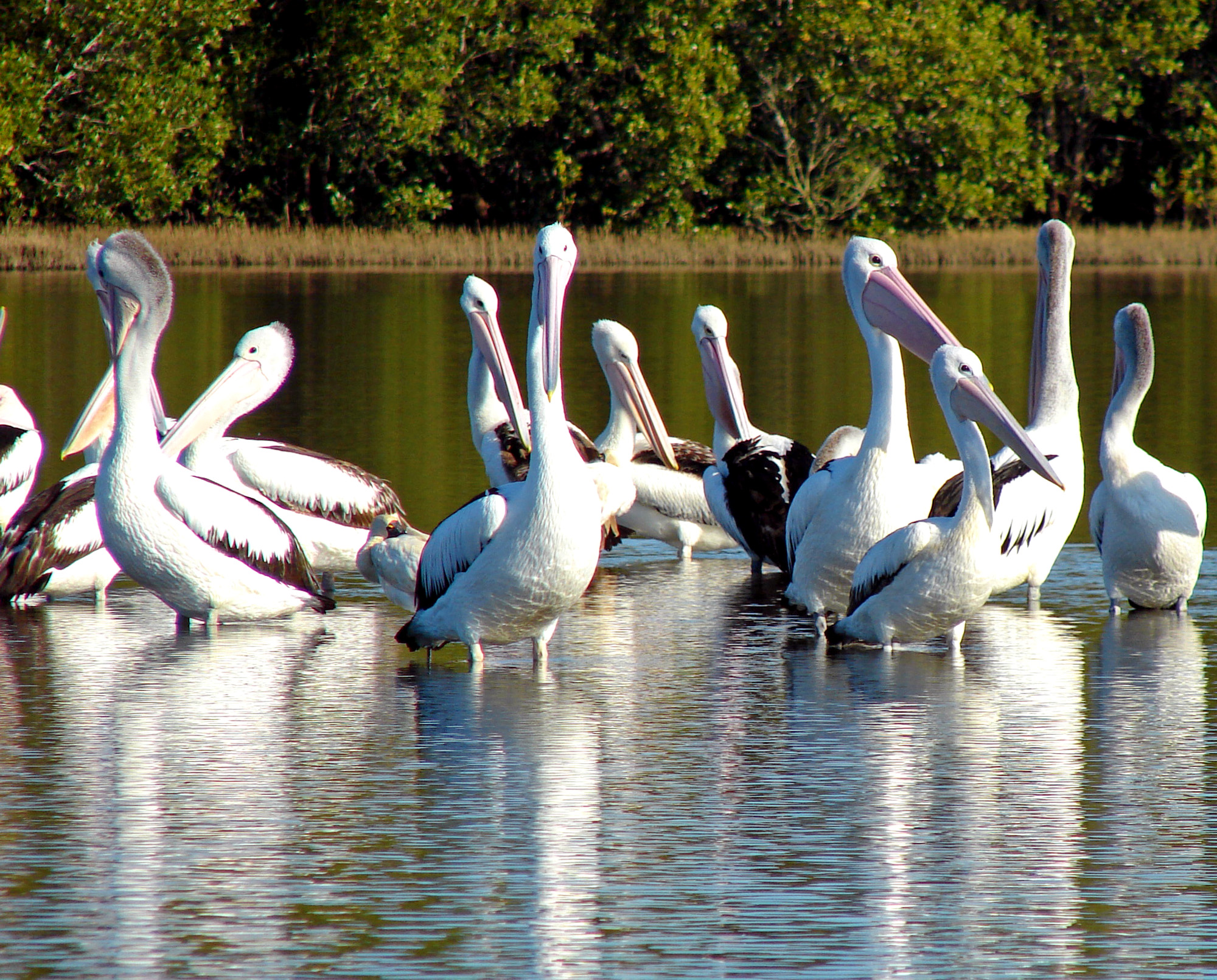 Jasna Tuta, 29. 3. 2019
BLACK SWAN
Last night, I dreamed of a black swan. He was silently drifting along a large wetland, not paying any attention to me. I was watching him in my favourite way of observing nature: without trying to guess what he was doing there or where he was going, without praising his beauty, without being afraid he would fly away too soon. I don't remember how long he was drifting through my dreams; when I sat down in the morning with a cup of coffee in my hand, ready to write something new for this colourful beehive of ours, however, the swan was still there in my mind. Today, I decided to take you to his home.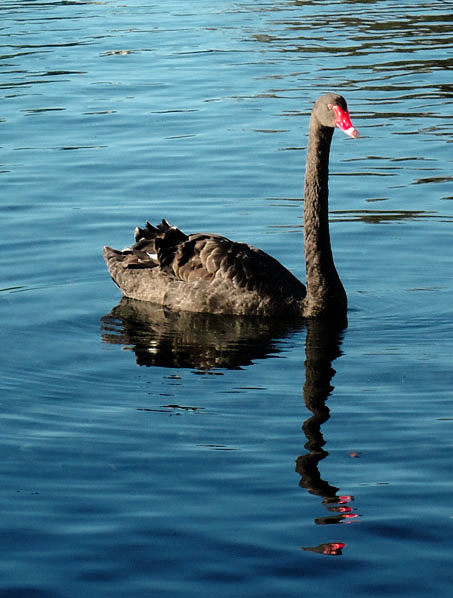 My first time sailing on the ocean happened in Australia, and the experience was anything but mundane. I was already known throughout the entire Gulf of Trieste as "the one who always gets sick on a boat"; you can imagine how much I enjoyed sailing through 4-metre waves. When Rick saw I had started to pack, he wisely decided to have us sail through calmer waters for a couple of days. On his nautical chart, he noticed the Clarence river which is one of the longest rivers in South-East Australia (it is nearly 400 kilometres long) and used to be a popular sailing destination. Older photographs show quite an amount of white sails navigating its surface. In the two weeks that we were sailing there, however, we didn't meet a single other sail boat.
The river winds through vast sugar cane plantations, and its coast is peppered with small settlements. We found a public pier in Maclean and decided to moor our boat there. Two locals sporting happy grins awaited us with a curious welcome:
"Welcome to Scotland!" they exclaimed. We soon understood where that was coming from. Maclean is known as "the Scottish village of Australia"; Scottish blood runs through the veins of most of its inhabitants, all public lighting masts are painted with the motifs of different Scottish clan tartans, and I even noticed a store selling kilts! Every year, several festivals reviving Scottish traditions take place in the village, typical clothes and bagpipes included.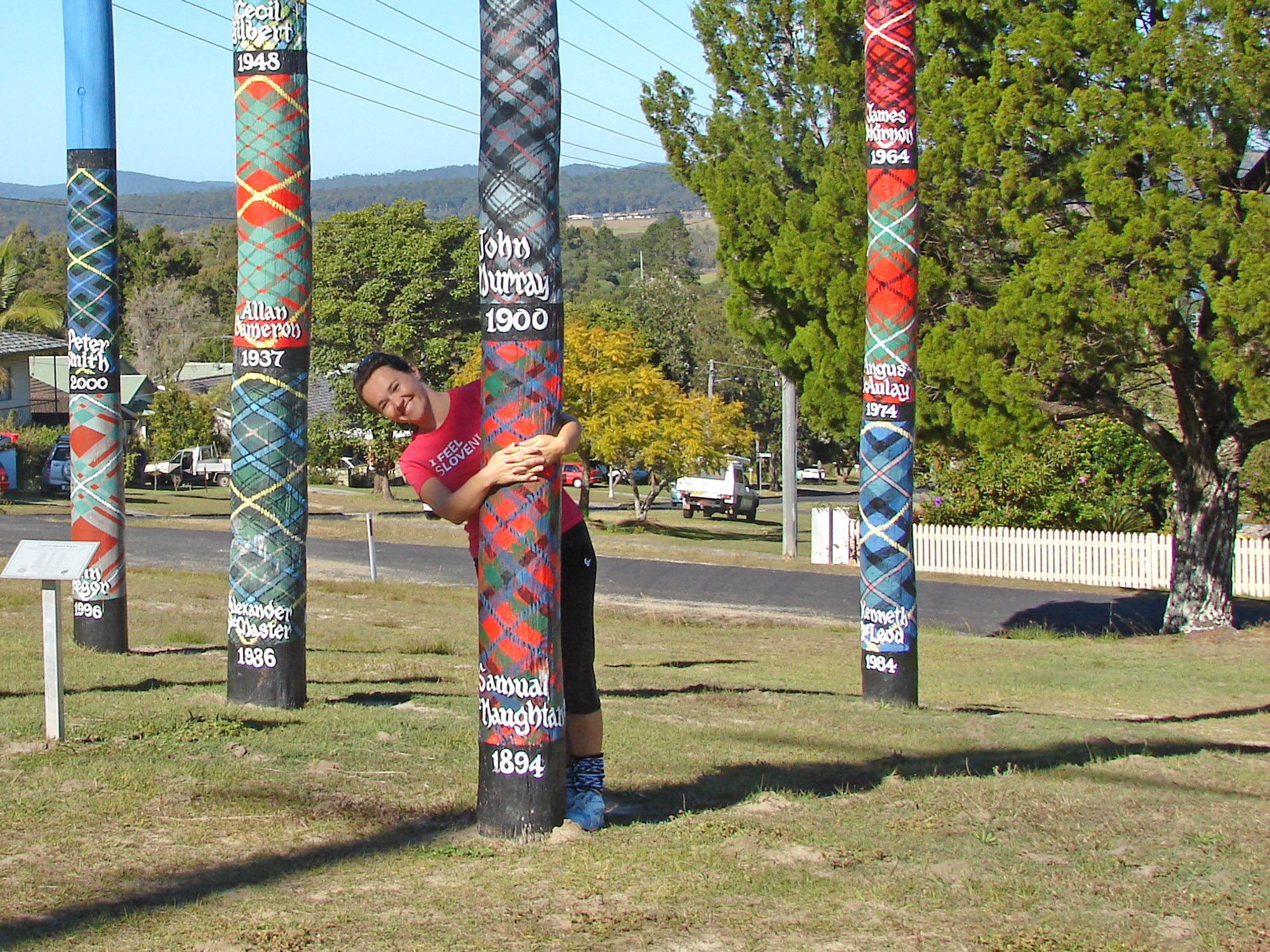 Peter and Ty are local boaters who gave us a lot of tips on how to sail on the river. Having spent their entire lives there, they know it by heart and were able to update our somewhat outdated nautical chart with shallows to avoid and the best pubs to visit. Ty recommended we sail through the side branch of the river expanding into some kind of wetland.
"You'll be able to see hundreds of birds and black swans there!" he told us. The name of the boat we used to sail on at the time was Marutji, which is an Aboriginal name for a black swan; we immediately approved of this layover.
We were expecting a smaller pond; what was awaiting us, however, was a huge lake larger than Bohinj. We dropped anchor next to a sand dune where a flock of about 50 pelicans were calmly waiting for the sun to go down. As we were staring at the red nuances blending at the horizon, we figured that the mangroves must surely be hiding an abundance of animals. We were eagerly awaiting the following morning, secretly hoping that our explorations would also turn up the black swans we had been promised.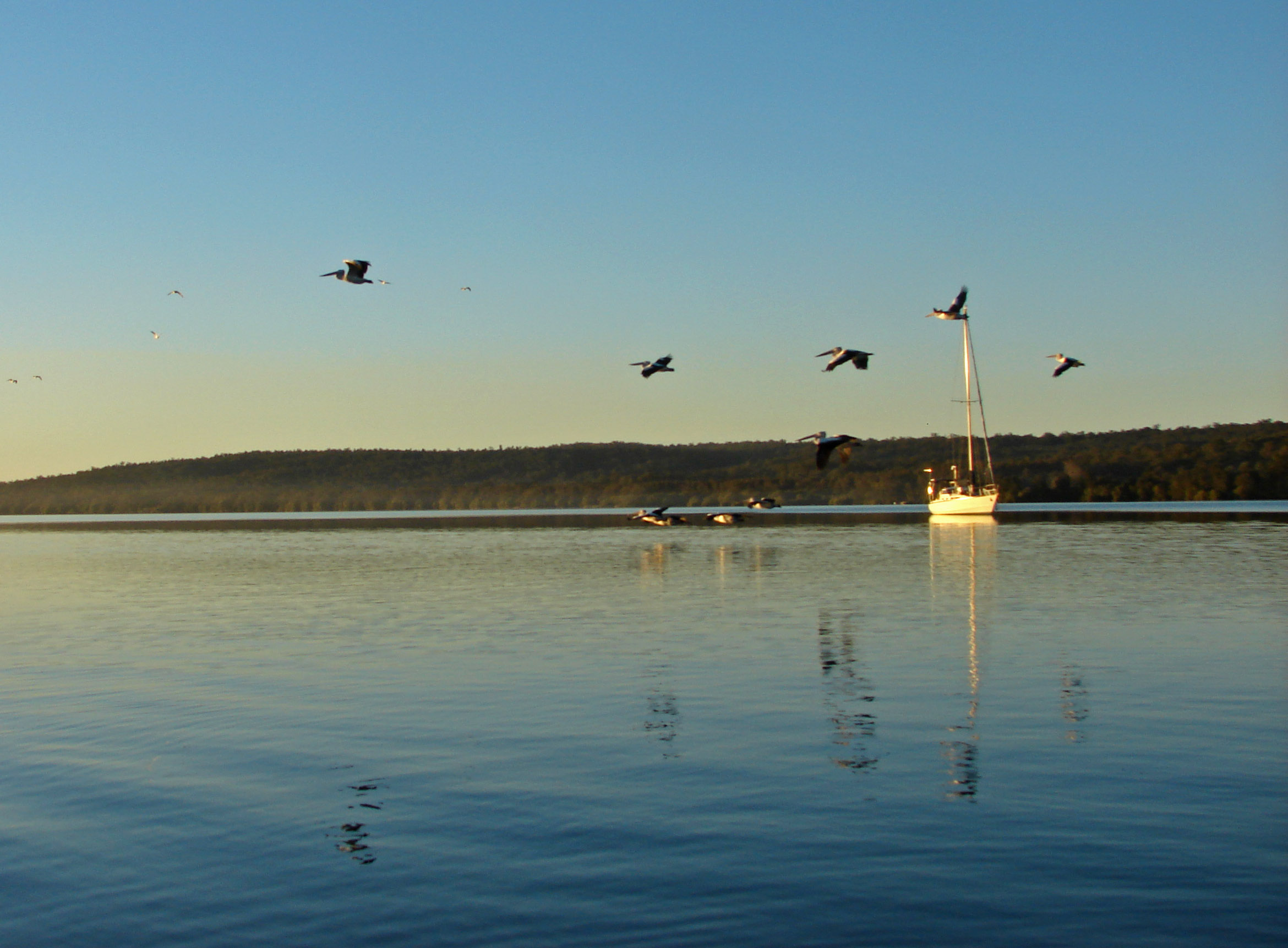 I opened my eyes at around six o'clock the next morning with a strange feeling; something suspicious was in the air. I spent some time trying to find out what it could have been, as it dawned on me: silence! A silence I hadn't heard in a really long time. Total silence. No traffic, no voices, no wind nor waves; one couldn't hear a thing. I took a peek through the skylight and saw a fog so dense that I couldn't even discern the masthead through it. I found it all so charming that I put on my clothes and went out on deck to listen to the silence. Here and there, I heard a flutter of wings; according to how loud they were, I assumed they were really close to me but could not see them. After about an hour, the fog dissipated completely, sun burst over the horizon, and we decided to go and explore the surroundings with our boarding boat.
At first, we tried to get as close as possible to a group of pelicans standing in the middle of the shallow water. They were glistening so beautifully in the morning daylight that I wanted to take a photo from up close. The water soon became too shallow for us to paddle through it, so I decided to spring into action on foot.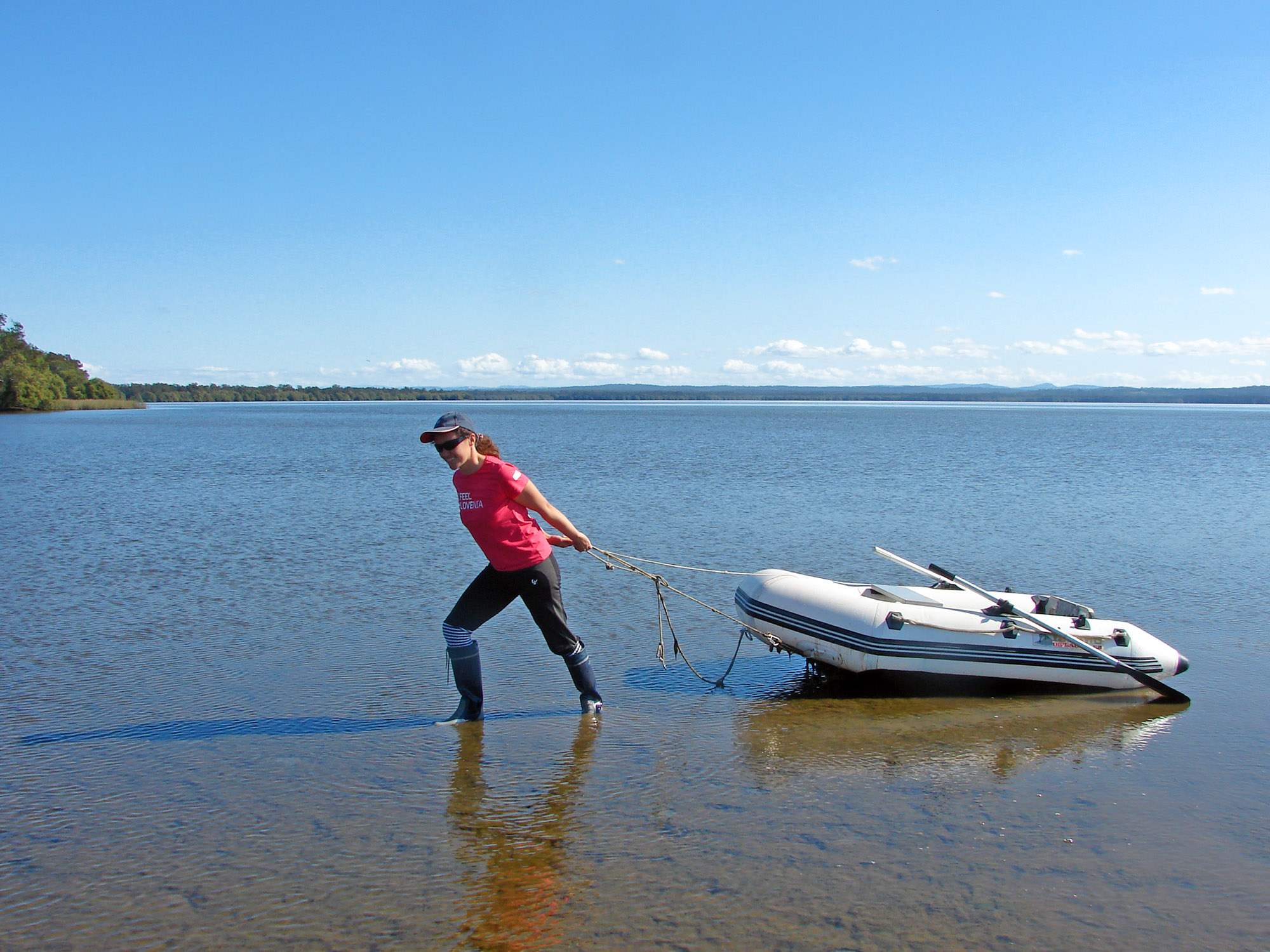 My high boots were sinking into the mud: a couple of times, I found it really hard to extract my foot which was, obviously, followed by a loss of balance and curious arm-waving whose only goal was to prevent my camera from getting wet. The pelicans were friendly enough to let me come really close, and there was nothing shy about them as they posed for the camera.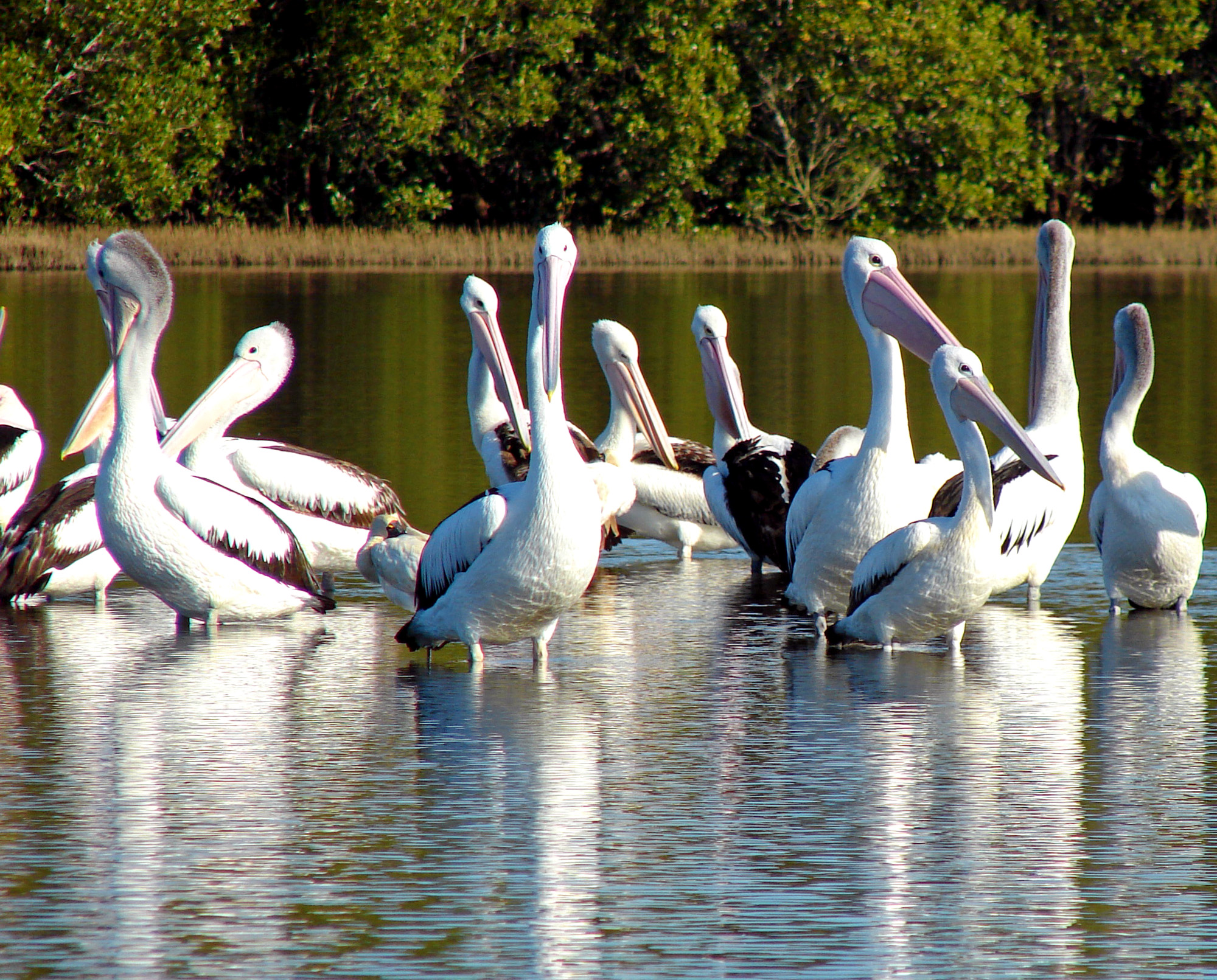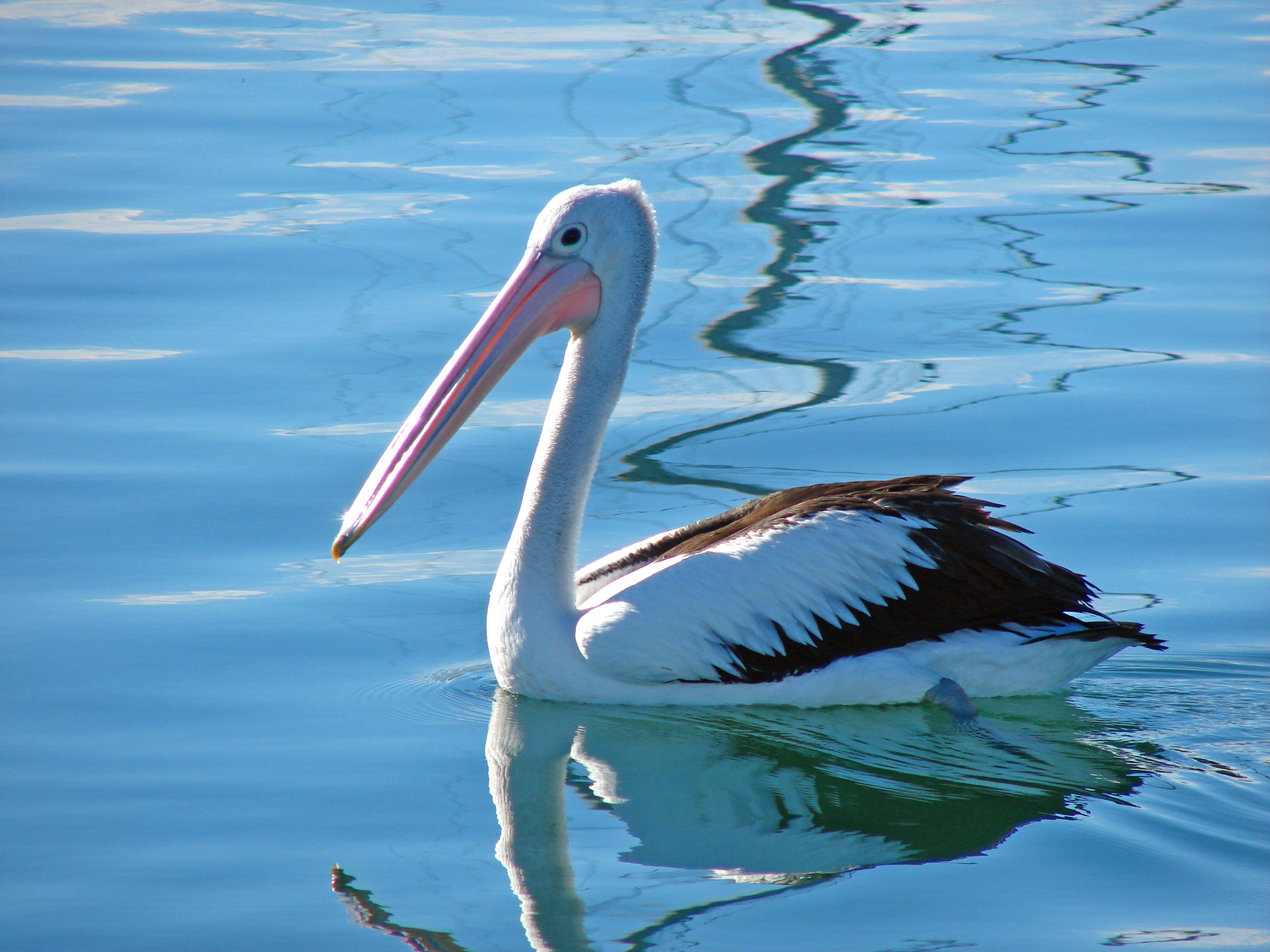 When they flew away, we paddled right next to the shore with our boat, hoping to see a hidden bird or two among the mangrove trees. And we really did find some.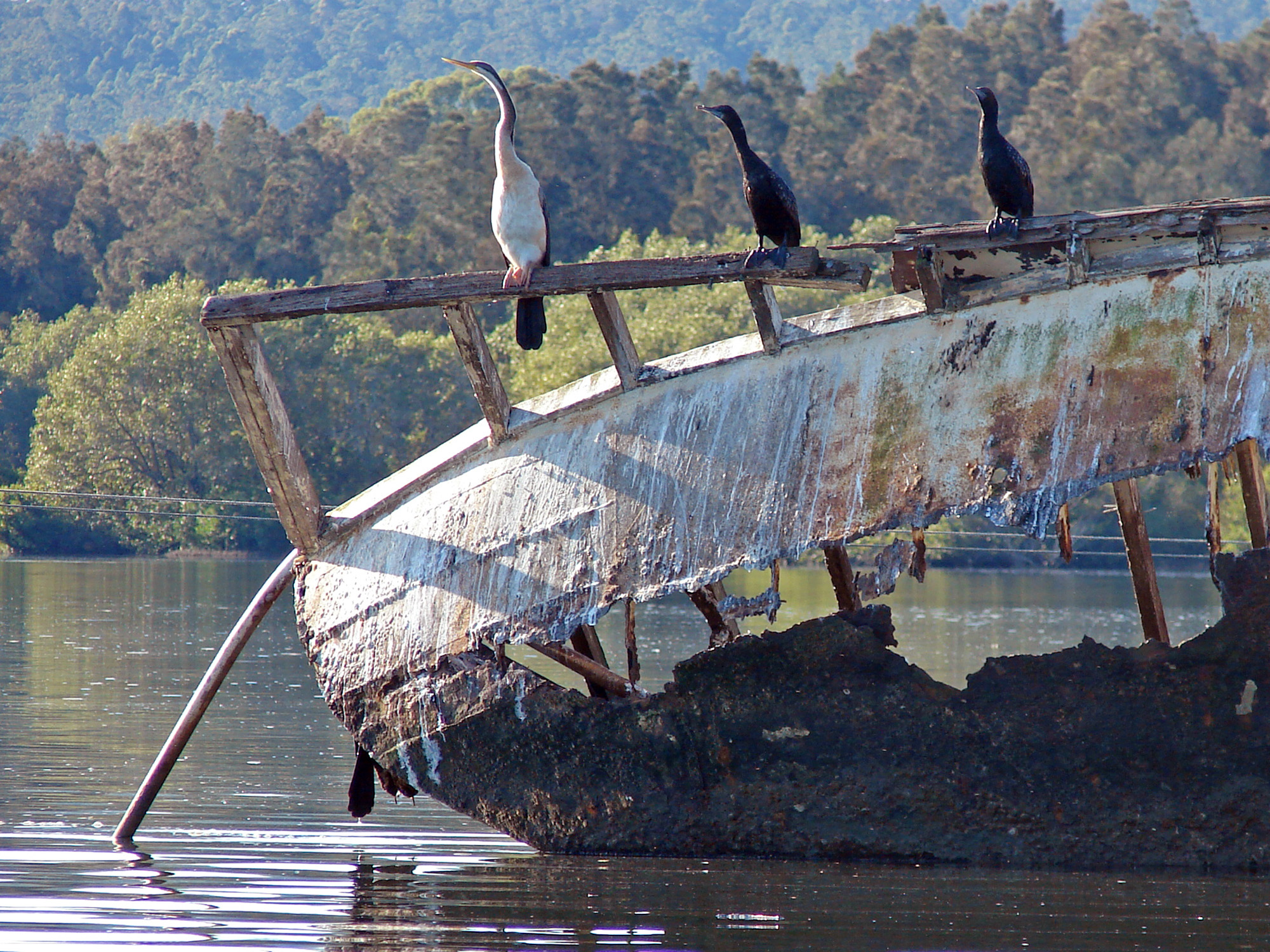 One of the largest, most beautiful birds had just been catching fish and was so caught up in what she was doing that she didn't even notice us until the very last moment. As she flew away as well, she revealed a pair of wonderful wings the colour of autumn.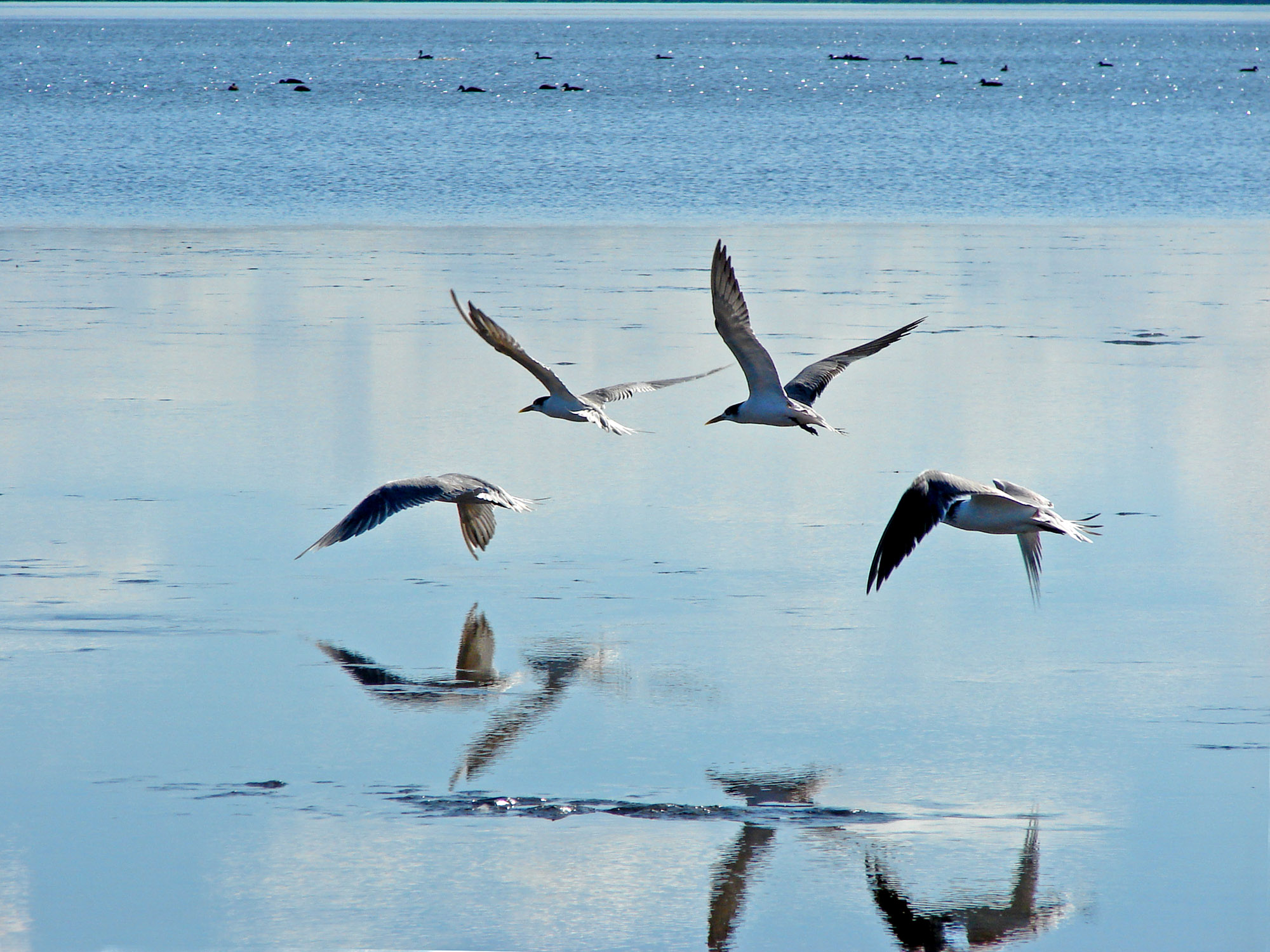 "Look, there they are!" said Rick, half-whispering, half-shouting. I turned around and saw silhouettes of black swans in the distance.
We only managed to get close enough to be able to take in their beauty for a little while: they soon flew off so quickly we could not catch them any longer. "Pelicans are much nicer!" I complained to Rick; he was quick to remind me, though: "You can't blame them; you know that the Aborigines used to hunt them until very recently." I wasn't blaming them. But they were so beautiful that I could have stood there looking at them forever: elegant black birds with blood-red beaks.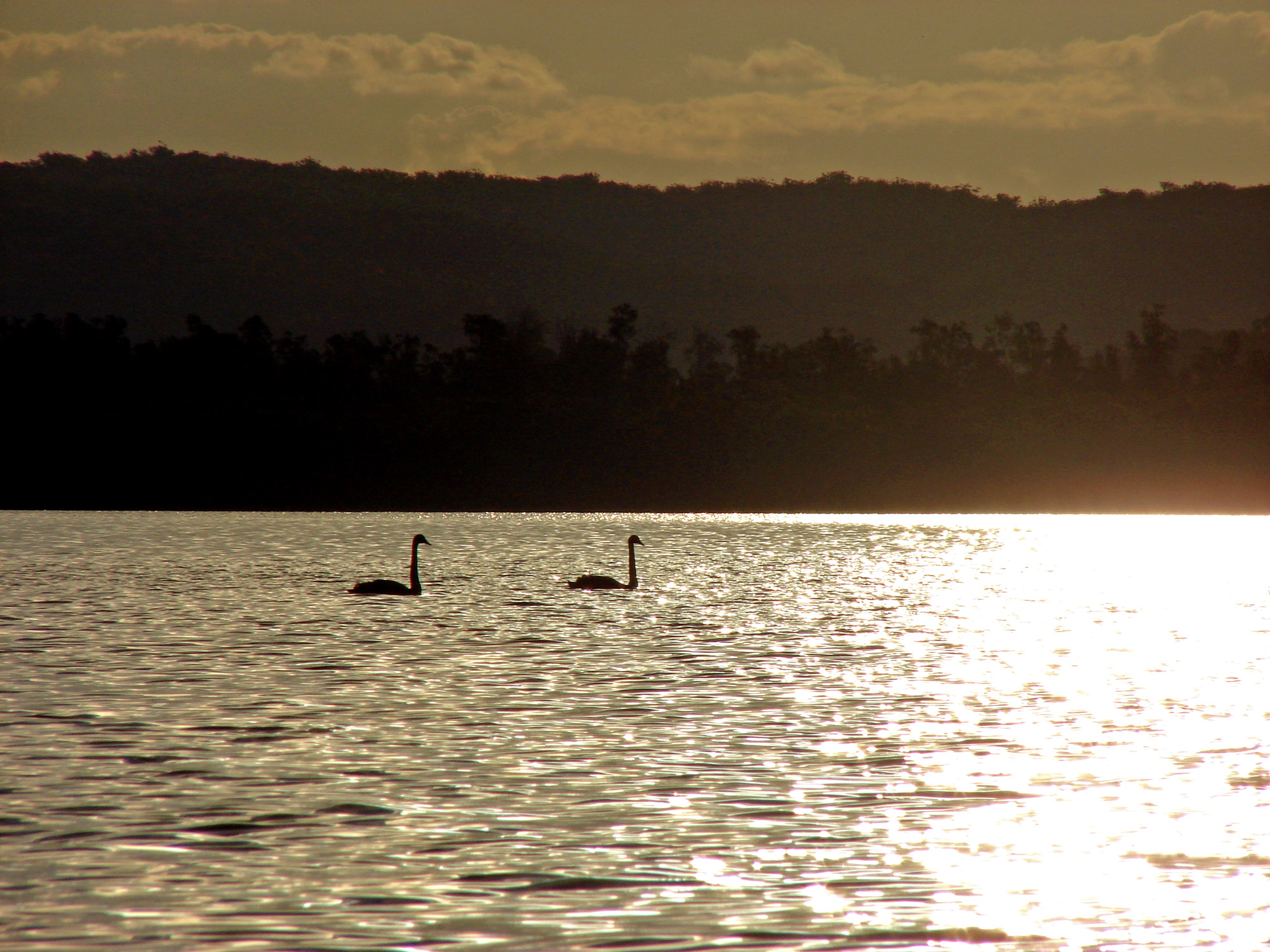 I don't know why, after all these years, this wetland is still so vividly present in my memory. I don't even know why a black swan visits me in my dreams from time to time. But it doesn't even matter why it happens. The only thing that matters to me is that every time I need some peace and quiet, I can close my eyes, go back to that bird paradise, and relive once again the blissful calm of a totally silent landscape, overflown in the end by a magnificently beautiful black swan.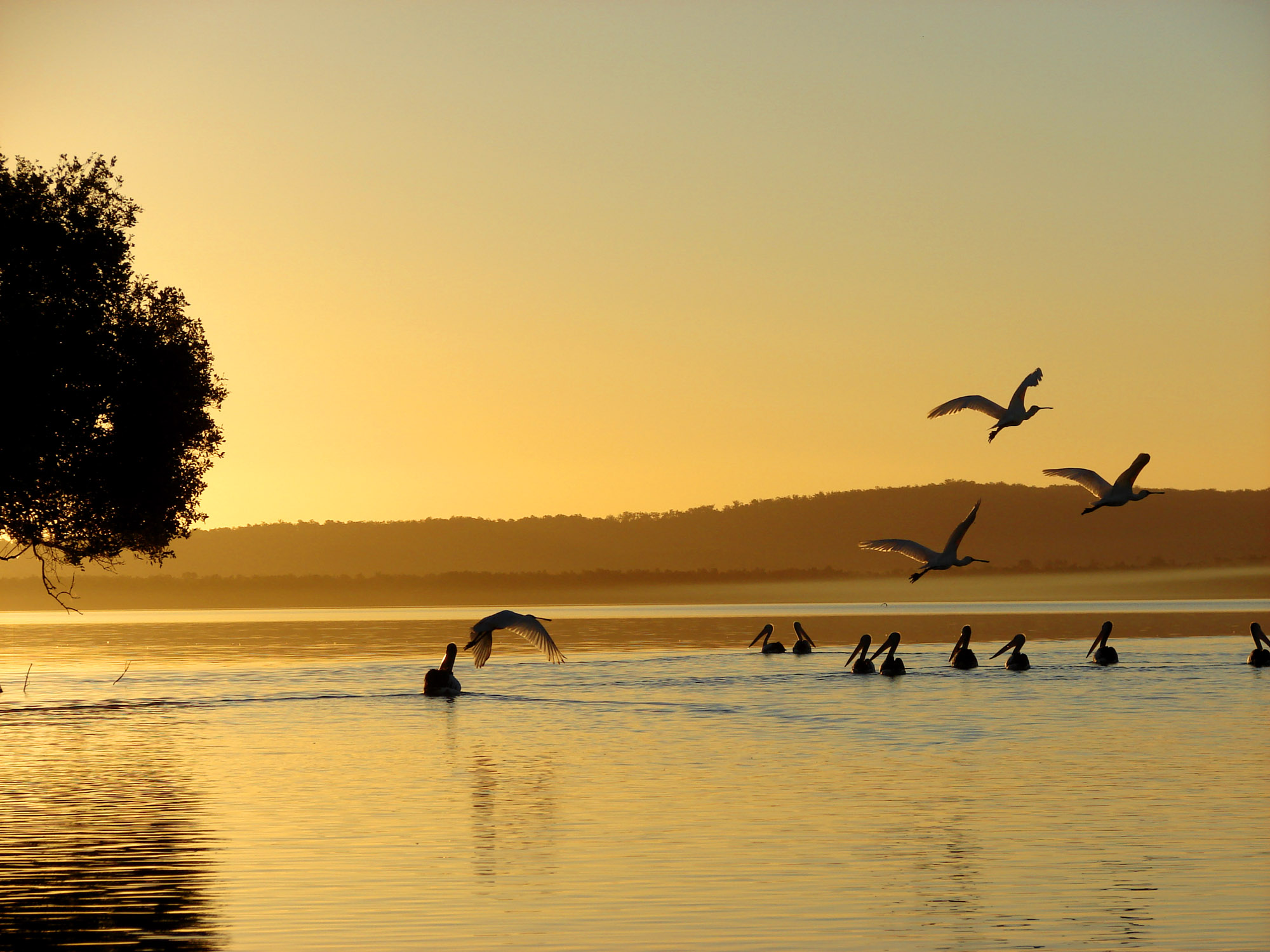 Jasna Tuta
I have always had a connection to the sea. Born in the coastal village of Sistiana (near Trieste) in northern Italy, my earliest memories are of watching the heavy waves slam ashore when the local winds were blowing hard. As a teenager, the sailing club became my focus – not just for my love of water sports, but also for the handsome boys that sailed there. I went on to become an Optimist instructor for the club by summer and a junior school teacher by winter. However, ten years of focusing on the needs of children dampened my maternal instincts somewhat and I felt the need to travel. The sea was the obvious way to go…
You may also be interested in: